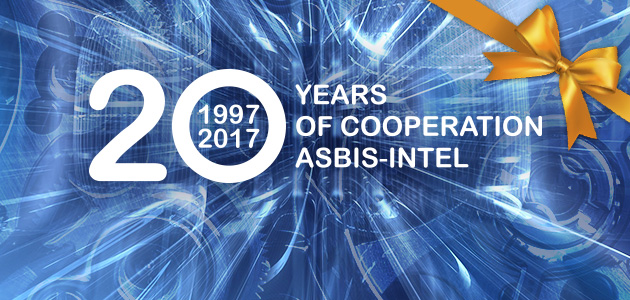 "20 Years of ASBIS-INTEL cooperation" QUIZ
Dear ASBIS Valued Customer,
ASBIS is proud to celebrate 20 years of long-term reliable partnership with Intel, remaining committed to distribution of Intel's high-end technologies across the markets of its presence.
Since 1997, when ASBIS signed the distribution agreement with Intel, our companies have built strong relations, developed the channel, run joint projects, and collaborated successfully.
To celebrate this milestone we offer to all our respected customers to join "20 YEARS ASBIS-INTEL COOPERATION QUIZ" and to win one of hundred gift baskets. Each week, during 20 weeks period, we will publish one easy question and will make a lucky draw with five gift baskets to give away them to all companies who answered correctly the question.
Good luck! Check the results weekly!
1

19.06 – 25.06

CZ/12768
BG/240919
BY/106821
CZ/1952
RS/200526

What momentous product Intel released at the same year and month, when the ASBIS-Intel distribution contract was concluded?

Intel Pentium® II processor

2

26.06 – 02.07

CZ/1952
BG/242467
BY/100092
BG/242227
BG/241667

What milestone did Intel celebrate in 1998?

Intel's 30th anniversary

3

03.07 – 09.07

CR/213657
SI/222610
BG/241312
BG/242157
UA/352449020305

What stock market index did include Intel in its calculation in 1999?

Dow Jones Industrial

4

10.07 – 16.07

CR/212346
BY/100418 BG/241341
CZ/15544 BG/240175

Watch Intel video ads made in 2000. What is the name of the band performing there?

Blue Man Band

5

17.07 – 23.07

CZ/16714
CZ/19244
CZ/1986
BG/242467
CZ/2235

In what densities Intel introduced its first flash memory built on 0.13-micron process technology?

32Mbit and 64MBit

6

24.07 – 30.07

UA/389803526541
BY/100418
BG/240919

How many new mobile processors did Intel introduce in 2002? (a gap of +-5pcs is allowed)

33

7

31.07 – 06.08

CZ/13573
BG/241667
BG/240452
BY/100388
SK/317636

What Intel processor family was the highest sales-volume desktop processor family in 2003?

Intel Pentium 4

8

07.08 – 13.08

9

14.08 – 20.08

10

21.08 – 27.08

11

28.08 – 03.09

12

04.09 – 10.09

13

11.09 – 17.09

14

18.09 – 24.09

15

25.09 – 01.10

16

02.10 – 08.10

17

09.10 – 15.10

18

16.10 – 22.10

19

23.10 – 29.10

20

20.10 – 05.11
To claim your award, please contact your local manager or marketing team!
Thank you!
Terms and conditions:
The promotion runs by ASBIS Group (further ASBIS) for all ASBIS' customers, beginning from June 19, during 20 weeks, until November 6, 2017. "ASBIS' customers" means customers that bought Intel products from ASBIS at least once within last 6 months.
Each week, ASBIS will give away 5 gift baskets, totaling to 100 gift baskets during the promotion period.
To participate in a lottery, company representatives should fill in the form on a special promotion page and submit an answer to a "Question of the week". Customers can submit as many entries as they want, but only one correct entry per company is qualified during the specific week. The "specific week" means each week within the promotion period, which begins on Monday at 0.01 a.m. and ends on Sunday at 23.59 p.m.
Only entries, which were received during the mentioned time (UTC +2), will participate in the lucky draw of the specific week.
The results are to be published on Promotion page weekly and customers are responsible for claiming their gift baskets by contacting local marketing team or their sales manager. Gift basket cost can't be exchanged to money equivalent.
Gift basket is to be chosen by local ASBIS' entity team and will not be the same as it is shown on the picture.
ASBIS keeps the right to change conditions or to stop the promotion at any moment, without preliminary announcement.