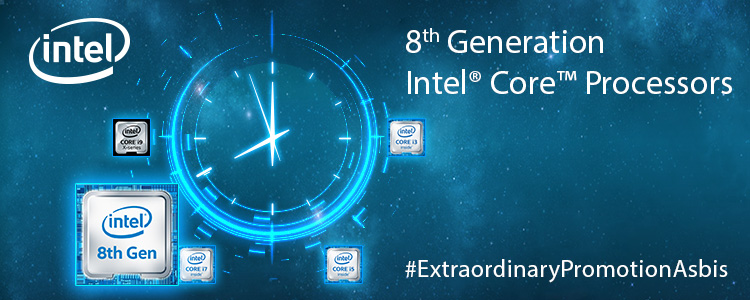 EXTRAORDINARY PROMOTION:
8th and 9th Generation Intel® Core™ Processors
Have you ever thought about the scale of efforts and time invested into the process of Intel processors creation? Where are we now in that process? Where will we arrive? For sure we know only one thing – we are now at 8th and 9th Generation Intel® Core™ Processors stop and we all are a part of that progress too!
Join our Extraordinary Promotion! and influence, say that you love Intel processors, study, have fun and get rewards!
General rules:
Promotion is open to all ASBIS customers in all countries in EMEA region where ASBIS operates
Promotion period starts on 10/09/2018 and runs till the end of available points or till 31/03/2019 depending on what comes first
Promotion is not connected with the purchase of any product but Participants should be existing members of the Intel® Technology Provider Program ("ITPs") to earn points
Each company can earn points only once in each of the nominations, maximum of 8000 points in this track.

Earning ITP points:

In case the customer is not yet registered in Intel® Technology Provider Program – register in the program during promotional period by link http://www.intel.com/reseller and confirm ITP number to ASBIS by using ACHIEVEMENTS page – 500 points

Watch 3 educational movies about Intel 8th and 9th Gen Intel Core Processors placed on ACHIEVEMENTS page and pass quiz. 100% correct answers will bring 500 points

Do 3 promotional activities (for example, 2 newsletters to customer partner base and placement of banner for at least 5 working days on customer web-site) featuring Intel 8th Gen Core CPUs. Mediaplan/activity description should be sent in advance to ASBIS using the form provided on ACHIEVEMENTS page and approved by ASBIS headquarters' team before proceeding. Screenshots/copies of ads should be uploaded also to ACHIEVEMENTS page as soon as ads are over - 2000 points

The customer should film 4 short clips where a person says: "I love Intel 8th and 9th Gen Processors because…( of great performance/brilliant price/ just because it's Intel/your answer)" or make 4 photos of people holding posters with a sign "I Love / Use Intel 8th Generation Processor" and then place to corporate social media with a hashtag #ILoveIntelCPU and #ExtraordinaryPromotionAsbis with a possibility to share it on ASBIS pages. Screenshots or links to the posts should be uploaded to ACHIEVEMENTS page and confirmation to use them in ASBIS social media should be given - 5000 points
To contact ASBIS Promotion manager