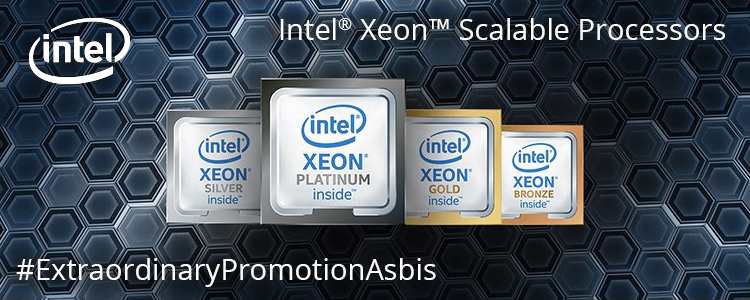 EXTRAORDINARY PROMOTION:
Intel® Xeon™ Scalable Processors
General rules:
Promotion is open to all ASBIS customers in all countries in EMEA region where ASBIS operates
Promotion period starts immediately after publishing these T&C on ww.asbis.com and runs till the end of available points or till 31/03/2019 depending on what comes first
Promotion is not connected with the purchase of any product but Participants should be existing members of the Intel® Technology Provider Program ("ITPs") to earn points
Each company can earn points only once in each of the nominations, maximum of 4500 points in this track.

Earning ITP points:

We encourage customers to participate in the demonstrational events of Intel Xeon Scalable processor based servers OR in server training events organized by ASBIS local teams in ASBIS premises or outside during the promotional period. Every Participant of such a server event will be able to register on ASBIS web-site through ACHIEVEMENTS page of the Extraordinary Promotion! in the period from 10/09/2018 till 19/12/2018 and participate in a lottery where 50 lottery tickets with value of 2000 ITP points will be offered. Lucky draw will be held on 20.12.2018.

In case the customer is not yet registered in Intel® Technology Provider Program – we offer to register in the program during promotional period by link http://www.intel.com/reseller and to confirm ITP number to ASBIS by using ACHIEVEMENTS page in order to receive 500 points

Write "YOUR STORY" - a short story about your experience of using Intel Xeon Scalable Processors AND/OR the benefits of Intel Xeon Processors you find over competitors and send it to us together with an approval to use it in ASBIS social media through ACHIEVEMENTS page.

Another option is to do 3 promotional activities (for example, 2 newsletters to the customer partner base and placement of banner for at least 5 working days on customer web-site) featuring Intel XEON Scalable family processors. Mediaplan/activity description should be sent in advance to ASBIS using the form provided on ACHIEVEMENTS page and approved by ASBIS headquarters' team before proceeding. Screenshots/copies of ads should be uploaded also to ACHIEVEMENTS page as soon as ads are over - 2000 points
To contact ASBIS Promotion manager