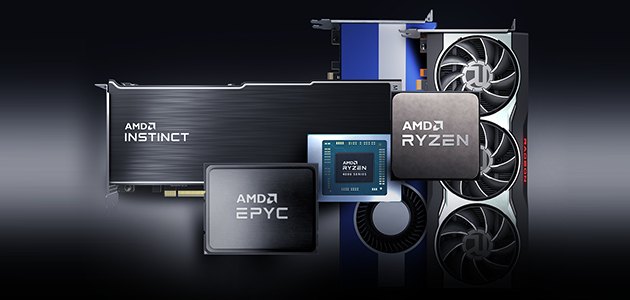 About AMD
Founded in 1969 as a Silicon Valley start-up, the AMD journey began with dozens of employees focused on leading-edge semiconductor products. From those modest beginnings, AMD has grown into a global company achieving many important industry firsts along the way. AMD today develops high-performance computing and visualization products to solve some of the world's toughest and most interesting challenges. For more information about how AMD is enabling today and inspiring tomorrow, visit the AMD (NASDAQ: AMD) website.

AMD EPYC™ Server Processors
Boost workload performance with the confidence of modern security features to help accelerate better business outcomes with AMD EPYC™ Processors.
- EPYC Platform Solutions
- 2nd Gen AMD EPYC™
- 3rd Gen AMD EPYC™
- AMD EPYC™ 7003 Series Processors with AMD 3D V-Cache™ Technology


AMD Ryzen™ Processors
Game-changing performance with up to 16 cores, 32 threads, boost clocks of up to 4.9GHz, and up to 72MB of cache.
- AMD Ryzen™ Processors Family
- 3rd Gen AMD Ryzen™ processors
- AMD Ryzen™ 5000 Series processors
AMD Ryzen™ Processors with Radeon™ Graphics
Enthusiast-class performance without the need for a discrete graphics card.
AMD Ryzen™ Threadripper Processors for High End Desktops
Up to 64 cores and 128 threads for lightning-fast creative workloads.
AMD Athlon™ Processors with Radeon™ Graphics
Fueled by up to 4 advanced "Zen +" processing cores and 4 processing threads, you'll make short work of your everyday productivity, surfing, and multi-tasking.

AMD Ryzen™ PRO Processors
With up to 8 cores, delivers modern performance, security features, and seamless management for the most demanding business environments.
AMD Ryzen™ Threadripper™ PRO Processors
Professional workstation users 7nm process technology delivering an unmatched CPU core density for professional workloads and supporting 128 PCIe® 4.0 lanes.

AMD Radeon™ PRO Graphics Cards
Explore Radeon™ Pro graphics for workstations and unleash your creativity for mobile and desktop. Get the workstation GPU that's right for you.
AMD Instinct™ MI Series Accelerators
The era of exascale is here. Immense computational power coupled with the fusion of HPC and AI is enabling researchers to tackle grand challenges once thought beyond reach.
- AMD Instinct™ MI200 Series Accelerators

AMD Desktop Kits
Bringing modern PC performance into a simple preconfigured kit that allows for smaller footprint and takes the guesswork out of matching the right components when building a system.
- AMD 4700S Desktop Kit