March 29 2012, Dubai (United Arab Emirates) -- ASBIS Middle East, a subsidiary of the ASBISC Enterprises PLC group (WSE: ASBIS), has been honoured "IT Distributor of the Year" and Mr Hesham Tantawi, Vice President of ASBIS for META Region, was honoured with "Channel Executive of the Year" award during the annual Channel ME Awards 2012 event held at the Westin Hotel in Dubai.
The event, held alongside a gala dinner, attracted over 350 executives from the vendor, distributor, reseller and retailer community across the region, where they were recognised for their achievements and commitment to the development of the regional channel over the past 12 months. Twenty-two awards were presented and they recognised the companies, partner programmes and individuals that have done the most to build and improve the Middle East channel business.
"ASBIS made notable steps towards helping resellers focusing in the system builder and services space to fulfil their potential by developing local markets," read the note of the Panel of Judges. "The company ramped up its in-country marketing and channel support initiatives in the region and teamed up with key vendors to help partner's transition into the services space. The winner also supported and helped reseller partners to deal with the tough business climate through its association with the Dubai Computer Group."
"ASBIS has continued to expand and transform its business, adding a number of top-tier vendors in 2011, as well as investing to build a value-added distribution business in new territories," said Manda Banda, Chief-Editor of "Channel Middle East" magazine. "Under Mr Hesham Tantawi's leadership, the company also took steps last year to help regional partners to manage difficult economic conditions, by developing local markets and their services capabilities."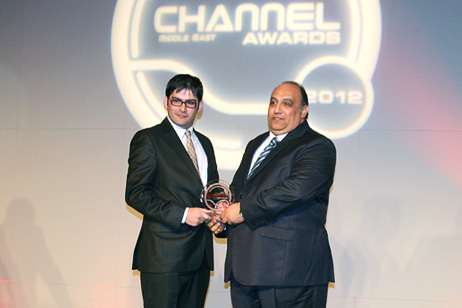 Mr Hesham Tantawi, Vice President of ASBIS for META Region,
picked up "Channel Executive of the Year" award.
About ASBIS
ASBISc Enterprises PLC (WSE: ASBIS) is based in Cyprus and specializes in the distribution of IT products from worldwide leading manufacturers such as Intel, AMD, Seagate, Samsung, Microsoft, Apple, Dell, Toshiba, Acer, Lenovo and Hitachi. The company has own subsidiaries in 29 countries, more than 1,240 employees and 26,000 active customers in over 85 countries worldwide, and its revenue reached US$ 1,48 billion in 2011. For more information visit the company's website at www.asbis.com.