ASBIS Slovakia, a subsidiary of ASBISC Enterprises PLC (WSE: ASB), has gained the 'Fastest Growing Distributor in CEE' award at the annual HP distribution partner conference held in Athens, Greece, on November 25, 2014.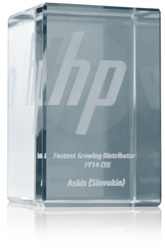 Hewlett-Packard named ASBIS Slovakia the "Fastest Growing Distributor in CEE"
This award is the recognition of ASBIS Slovakia achievements on the local market among all the distributors in Central and Eastern Europe and its enormous growth in HP business throughout FY2014.
"We are proud to get this award from the vendor that marks our efforts. It was not an easy process but with dedication and commitment of ASBIS Slovakia team focus on Hewlett-Packard sales, we managed to reach this success and will continue to develop and grow HP business in the future", said Jozef Hegyi, ASBIS Regional Vice-President for Czech Republic, Slovakia, and Hungary.
About ASBIS
ASBISc Enterprises PLC (WSE: ASB) is based in Cyprus and specializes in the distribution of Information and Communications Technology products and solutions from global suppliers including Samsung, Apple, Microsoft, Intel, AMD, Seagate, WD, Toshiba, Dell, Acer, Lenovo. The company has its own subsidiaries all over the region of EMEA, more than 1,700 employees and 33,000 active customers in over 90 countries around the globe, and its revenue reached US$ 1,920 billion in 2013. For more information, visit the company's website at www.asbis.com.