By Andrew Seymour on Tuesday, February 12, 2008
Notebook vendor Toshiba has moved to allay any suggestions that it is under-distributed in the Saudi market by awarding in-country distribution rights to Asbis and Redington.
The overhaul of its channel strategy means the number of distributors authorised to carry Toshiba products in Saudi will rise from two to four, with each company focusing on a specific segment of the market.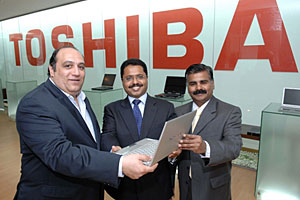 Existing distributors Arabian Business Machines (ABM) and Jarir Bookstore are both set to take on slightly different roles to account for the new structure. ABM will focus on the retail segment, while direct retail partner Jarir will concentrate on serving the market through its 17 countrywide showrooms.
Toshiba claims the doubling of its distribution line-up is a direct response to the exponential growth of the SMB market and the need for a "more structured channel". Both Asbis and Redington will be given license to develop Toshiba's commercial business by addressing SMB-focused dealers and VARs.
Santosh Varghese, regional general manager at Toshiba, believes the move now gives the vendor a "solid channel structure" in a Saudi market where laptop volumes already outpace desktop shipments. "2008 is certainly going to be a very important year for Toshiba in the Kingdom," he stated. "Technology and the internet are being embraced and are spreading fast, so many opportunities are there for the taking."
advertisement

Copyright: ITP Technology Channel (12 February 2008)