BUY ONLINE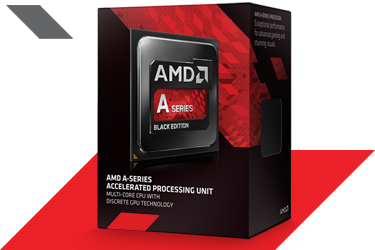 The AMD A-Series APUs with AMD Radeon™ R7 graphics, codenamed "Kaveri", are designed with industry-changing new features that deliver superior compute and heart-pounding gaming performance. A revolutionary next generation APU that marks a new era of computing had been tested and reviewed by key IT press across EMEA and below we are pleased to present key quotes and conclusions.
Product Specifications
| | | | |
| --- | --- | --- | --- |
| Price7 | $173 USD | $152 USD | $119 USD |
| Power | 95W | 95W | 65W/45W |
| Compute Cores | 12 | 10 | 10 |
| CPU Cores | 4 | 4 | 4 |
| GPU Cores1 | 8 | 6 | 6 |
| Max Turbo Core | 4.0GHz | 3.8GHz | 3.8/3.3GHz |
| Default CPU Frequency | 3.7GHz | 3.4GHz | 3.3/3.1GHz |
| GPU Frequency | 720MHz | 720MHz | 720MHz |
| L2 Cache | 4MB | 4MB | 4MB |

Key Quotes
Info.ba
AMD showcase Kaveri desktop APU
English translation:"AMD has launched the AMD A-series of APUs for 2014. It's by far the most advancedand programmer – friendly APU ever. Kaveri integrates AMD Radeon R7 graphics thathas the new and revolutionary HSA."
Tehnokrat.si
AMD strikes back
English translation:"AMD has pulled another felicitous move, seeking to prove the universality of its newprocessors. The most powerful APUs in the lineup, the A10-7850K and A10-7700 will bebundled with Battlefield 4, a highly popular game. In practice this means that thisprocessor is worth at least €50 more in the eyes of gamers. At the same time, AMDwants to prove that the new processor is powerful enough to play the latest and most2demanding video games in Full HD – on the integrated graphics processor – somethingwhich was not possible until yesterday."
ITSvet.com
AMD introduced the Kaveri APUs
English translation:"The new AMD Kaveri APU unit brings an updated version of "Bulldozer" CPUarchitecture and the same GPU architecture as the latest, premium Radeon cards."

Digitalonline.rs
AMD Kaveri
English translation:"When it comes to gaming, Kaveri performs on the same level as the $70 and moreexpensive Intel chips, when both paired with the same Radeon R9 270X card. However,if using only integrated graphics, Kaveri is significantly more powerful than Intel'sHaswell."
Benchmark.rs
AMD completely discloses Kaveri desktop APU
English translation:"It should be noted that Kaveri is the first APU using new 28 nm technology and"Steamroller" architecture. It is an evolution of the modular design that was introducedwith Bulldozer and later with Pilledriver. AMD has promised a performance up lift of 10%per core on the same frequency. Steamroller module combines two 64bit x 86 cores."
Insidehw.com
AMD 2014 A-series APU
Original quote:"The AMD A-Series APUs with AMD Radeon R7 graphics, codenamed "Kaveri", aredesigned "with industry-changing new features that deliver superior compute and heartpoundinggaming performance." The A10-7850K and A10-7700K APUs will be bundledwith EA's Battlefield 4, to bring a first class APU gaming experience."
www.benchmark.rs
AMD Kaveri - A10 7850K
English translation:"Finally, there is not much left to say except that AMD has made a great component thatwill almost certainly be greatly accepted on the local market. All users who do not haveextremely high demands and simply want a solution that is power efficient and providesa solid performance in all aspects will, as usual, find happiness with AMD's APU."
HardwareBG.com
AMD officially launched Kaveri APU
English translation:"Starting from today, users from around the world will have the opportunity to purchaseKaveri APU, one of the fastest processors in the world."
Diit.cz
Analysis: AMD releases Kaveri – APU with HSA, Mantle and TrueAudio
English translation: "The main focus is HSA, which will bring performance growth to every application which supports it, which can't be achieved with a random CPU and a discrete GPU. The second key benefit is that AMD has unified APU graphics equipment with high-end desktop graphics."
T3n.de
AMD Kaveri: The best solution for gamers and scrimpers
English translation: "Kaveri makes potent gaming-machines with impressive performance for computers with only a small footprint. Gaming aside, the price and performance are alright – the GPU and CPU become equal parts."
PurePC.pl
Test of AMD A10-7850K code name "Kaveri" with Steamroller and Radeon R7 graphics
English translation: "The AMD A10-7850K scores a point in integrated graphics and compatibility with the standard HSA and improved performance of Steamroller's cores."
PCMHz.com
AMD Kaveri APUs bring important new features
English translation: "One of the most important features is the radical change in the way the CPU and the GPU interact with the system memory, thanks to hUMA technology."
overclockers.ru
The processors Kaveri appeared in AMD's price list
English translation: "AMD yesterday changed the sort order of processors in their price list. If before the top of each section contains the most available processors, now the more expensive have taken their place. The thing is, Kaveri has to stay ahead of their predecessors, taking the place of more expensive items."
Shiftdelete.net
Kaveri APUs Are Coming!
English translation: "The Kaveri, which will be the newest product in AMD's revolutionary APU series, aims to increase gaming experience at the top level. This could be the beginning of a new era."
hi-Tech
Presentation AMD Kaveri - new, fastest hybrid processors AMD
English translation: 28 "AMD Kaveri is the most advanced and fastest hybrid processor that has ever been produced by AMD."
Award Logos