Buy online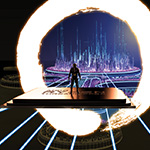 Command Your Creative Time
Turn the clock from dreaded enemy to deadline friendly. For those who create, composite, render, encode, and deliver — we give you Threadripper™. Get unprecedented multitasking power to edit footage, animate characters, and fine tune a design without sacrificing your vision.

Game With Brute Force
Now there's a processor powerful enough to stream your game content to your audience, without skipping frames; strong enough to handle your creative vision in three dimensions; and fast enough to compile your code while you play.

The Only Platform for the Ultimate PC
Coupled with the new TRX40 desktop platform, 3rd Gen AMD Ryzen™ Threadripper™ processors deliver bleeding-edge efficiency and expandability — including next-gen PCIe® 4.0 connectivity that the competition can't even support yet.

Unrivaled Architecture Exclusive to AMD
Editing, creating, intense gaming, modeling, and designing demands a PC that runs cooler, quieter, and faster. With an advanced technological innovation only available from AMD — the 7nm "Zen 2" core — 3rd Gen AMD Ryzen™ Threadripper™ processors are ready to do it all.
* Testing by AMD performance labs on 10/07/2019 comparing an AMD Ryzen™ Threadripper™ 3970X and AMD Ryzen™ Threadripper™ 3960X vs. Intel© Core™ i9-9980XE in the Cinebench R20 nT benchmark test. Results may vary. CPK-02
© 2019 IPerion, LLC, and published and distributed by 2K. Gearbox and Borderlands, and the Gearbox Software and Borderlands logos, are registered trademarks and used courtesy of Gearbox Software, LLC. 2K and the 2K logo are trademarks of Take-Two Interactive Software, Inc. All rights reserved.