Choose the processor that is best for you!
Intel® Core™ i7-4790K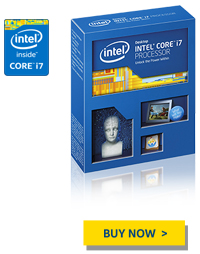 the latest 4th generation Intel® Core™ processor, is unlocked and has top performance along with the option of easy speed-up. Designed for all fans of extreme gaming and overclocking
Intel® Turbo-Boost 2 allows you to push the clock speeds up to 4.4 GHz, which increases efficiency when you need it.
The innovative solutions for heat carriers in the processor enable its overclocking even to a higher degree.
The highest performance ever for ultramodern gaming as well as working with numerous applications is made possible thanks to Intel® Hyper-Threading Technology

Intel® Core™ i5-4690K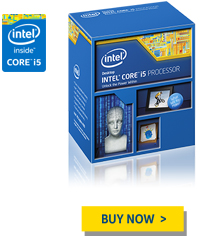 is the newest processor with top performance and unlocked multiplier. Perfect for all enthusiasts of high performance and easy overclocking. It is a universal CPU dedicated to the majority of various uses.
It has the exceptional new integrated HD 4600 graphics with high performance, as in the i7-4790K model.
When in turbo mode, you can speed it up to 3.9 GHz - remarkably easy overclocking is due to new solutions for heat dissipation.
The state-of-the-art four-core architecture allows you to cope with the toughest tasks.

Intel® Pentium® G3258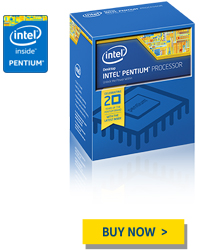 is offered in the special "Pentium Anniversary Edition" series. These CPUs are equipped with an unlocked multiplier, which enables all enthusiasts to achieve extra MHz's. It's ideal for people who need a reliable, yet economical solutions.
The combination of two modern and efficient cores with the high speed clock (3.2 GHz) allows you to go smoothly through your daily activities such was watching HD movies online, basic photo editing and simple games.
Technology Intel® Quick Synch Video HD allows to save time when creating and editing video files and synchronising them with other devices.
Attractive price-performance ratio.

Processor Model
Intel® Core™
i7-4790K
Intel® Core™
i5-4690K
Intel® Pentium®
G3258
Clock
4 GHz
3.4 GHz
3.2 GHz
Max Turbo
4,4 GHz
3,9 GHz
-
Cache
8 MB
6MB
3 MB
Cores / Threads
4 cores /8 threads
4 cores / 4 threads
2 cores / 2 threads
Graphics
Intel® HD Graphics 4600
Intel® HD Graphics 4600
Intel® HD Graphics
Intel® Tutbo Boost 2.0
Yes
Yes
-
Intel® Hyper-threading
Yes
-
-
Unlocked clock
Yes
Yes
Yes