BUY ONLINE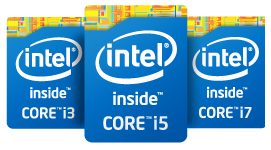 NEWS HIGHLIGHTS
First system-on-a-chip for PCs, enabling new form factors and 2-in-1 designs.
4th generation Intel® Core™ processors enable 50 percent improvement in battery life, biggest gain in company history.
4th generation Intel® Core™ with Intel® Iris™ graphics delivers up to double the graphics performance over the previous generation.
SANTA CLARA, Calif., June 4, 2013 – Intel Corporation today introduced the 4th generation Intel® Core™ processor family, reinventing personal computing as people know it today. 4th generation Intel Core delivers optimized experiences personalized for end-users' specific needs, packing extraordinary battery life capability, breakthrough graphics and new usages in devices such as 2-in-1s, tablets, robust enthusiast and portable all-in-one systems and secure and manageable business device with Intel® vPro™. The new Intel Core processors provide incredibly responsive, secure and powerful performance for consumers to create and consume content wherever their mobile lifestyles take them. The first chip ever built from the ground up for the Ultrabook™ and the most significant roadmap change since Intel® Centrino® technology, 4th generation Intel Core processors combine stunning PC performance with tablet-like mobility, accelerating a broad new category of 2-in-1 devices. With power levels as low as 6 watts in scenario design power, Intel is enabling thinner, lighter, cooler, quieter and fanless designs. New Intel Core processors also power designs such as all-in-one PCs with great battery life, bringing portability to the growing category. The highest-performing processor family, 4th generation Intel Core processors are capable of delivering up to 15 percent better performance than the previous generation. "4th generation Intel Core processors offer the most significant gain in battery life enabling ever achieved by Intel, up to double the graphics and significant CPU performance improvements that are delivering exciting new consumer experiences," said Kirk Skaugen, Intel senior vice president and PC Client Group general manager. "Today's announcement accelerates a new category of 2-in-1 computing devices delivering the best of a notebook and a tablet in amazing new form factors. This year is the perfect time for consumers to refresh their old tablet or PC with these new 2-in-1 devices." Consumer and business systems based on quad-core versions of 4th generation Intel Core processors are now available. Summer availability is planned for 2-in-1s Ultrabooks, portable all-in-ones and traditional laptops and desktops. New mobile business products with 4th generation Intel® Core™ vPro™ will be available later this year. Pricing for the new Intel Core processors can be found onwww.intc.com.
Low Power + Stunning Performance + Eye-Popping Graphics
Delivering Intel's largest generation-over-generation gain in battery life enablement in company history, 4th generation Intel Core processors can bring an 50 percent improvement in battery life over the previous generation in active workloads when watching movies or surfing the Internet, and two to three times improvement in standby battery life. For some systems coming to market this year, over 9 hours of active use battery life or 10 to 13 days of standby with fresh data on a single charge is expected. To achieve this breakthrough, Intel exceeded its expectations on power reduction at the CPU level to as low as 6 watts and also worked across the system for power optimization. These improvements range from System-on-a-Chip (SoC) and platform level technologies to Intel's leading-edge 22nm process technology. Active power is improved as is idle power by architecting new ultra low-power processor states where the CPU consumes a fraction of the power compared to previous idle states. The 4th generation Intel Core processors also bring the highest performance currently available in mainstream computing with the additional benefit of superior graphics support. People will be able to experience every day computing approximately two times faster; systems can wake up approximately eight times faster and users will have the ability to edit and share HD video about 20 times faster; than a similar 4-year-old computer. Intel expanded its range of Intel graphics in the highly integrated SoC to deliver even more stunning visuals in thinner and lighter devices. Intel® Iris™ graphics, available on select SKUs of the 4th generation Intel® Core™ processor family, delivers up to double the 3-D performance over today's fastest mobile Intel HD Graphics solutions. Intel Iris graphics bring next-generation mobile computing devices to life with a built-in, visual experience – no extra graphics card required.
New Computing Experiences, More Peace of Mind for New Intel Core-Powered Ultrabook
The 4th generation Intel Core processor also enables a number of new computing interactions to enhance the overall user experience. 4th generation Intel Core – completely redesigned from the ground up specifically for the Ultrabook – represents a seismic shift in the compute landscape. New Intel Core raises the bar for Ultrabooks and realizes the vision Intel outlined 2 years ago to combine best-in-class performance, impressive responsiveness and battery life and built-in security in thin and elegant mobile designs. All new Ultrabooks will be touch-enabled and have Intel Wireless Display capability built in to bring natural touch and motion interactivity and speed mode for low-latency gaming on the big screen. Ultrabooks will also be hardware-ready for voice command and control, giving the user flexibility to choose the most natural and intuitive way of handling the task at hand. Ultrabooks will wake in less than 3 seconds from deep sleep and in some cases much faster, offering the nearly "instant-on" experience that people want. Ultrabooks will pull email, social media and other updates while in a low-power mode, meaning less waiting for fresh data upon waking. Ultrabooks are also equipped with built in security capabilities including Intel Identity Protection Technology (Intel IPT) and Intel Anti-Theft Technology (Intel AT) for more computing protection. Websites partnered with Intel IPT help protect log-in information, keeping identities safe based on hardware authentication. Intel Anti-Theft Technology helps protect Ultrabooks by automatically disabling it if lost or stolen. The recently introduced McAfee LiveSafe service brings the deepest protections available by taking advantage of technology in new Intel Core processors and Intel IPT and Intel AT.
Built for the Enterprise: Business, Workstation and Intelligent Systems
To ensure the best business computing experience for both IT staff and end users, embedded features in 4th generation Intel Core vPro processors further strengthen security and increase business productivity. Available today in select business desktops, all-in-one PCs, ultra-small form factor and mobile workstation devices with future availability later this year for Ultrabook, tablet and business laptop devices, Intel Core vPro offers superior performance for secure, productive and collaborative experiences allowing end users and IT to compute with confidence. The 4th generation Intel® Core™ processor family is also ideal for the design of high-performance, low-power intelligent systems for retail, industrial, media servers, medical and digital surveillance environments. The improved 3-D graphics and media performance deliver outstanding HD media playback for highly visual retail and digital signage applications, while new Intel AVX 2.0 instructions enable faster calculations for the rapid collection and interpretation of sound waves in an ultrasound machine. (Additional information on the 4th generation Intel Core processor family for intelligent systems is available in the news fact sheet.) It is estimated that by 2016 all TV, video-on-demand and Internet video combined may compose up to 86 percent of global consumer traffic1. Such growth requires innovation in processing technologies to help content providers deliver faster, better-quality video to consumers while at the same time radically optimizing their cloud infrastructure to serve billions of connected devices. Introduced today, the Intel® Xeon® processors E3-1200 v3 product family comes equipped with graphics featuring hardware accelerated media encode and decode technologies that allows all media and video content providers to deliver up to 4.6 times2 more videos to customers and decrease their total cost of ownership up to 64 percent2 versus traditional servers equipped with discrete graphics used today. The new microarchitecture and leading process technology also allow the lowest-power Intel® Xeon® processor ever at 13W TDP aimed at microservers and communication infrastructure. Up to 38 percent improvement in graphics performance and up to 18 percent better energy-efficient performance versus the previous generation also provide an opportunity for upgrading workstations, entry-level servers and storage solutions. (More information about new Intel® Xeon processors E3-1200 v3 product family is available in the news fact sheet.) "B-roll featuring three lead Intel engineers on the making of 4th generation Intel Core and supporting images are available atwww.intel.synapticdigital.com."