Buy online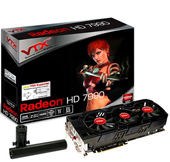 AMD (NYSE: AMD) today launched the AMD Radeon™ HD 7990, the world's fastest graphics card 1 , designed for gamers who want to take their PC gaming experience to the highest level. Based on award-winning AMD Graphics Core Next (GCN) architecture with AMD Eyefinity technology 2 , the AMD Radeon HD 7990 graphics card delivers unrivaled performance and world-class technology for playing the latest DirectX® 11 games in extreme resolutions and multi-monitor configurations.
"If you crave the ultimate in PC gaming, the clear and commanding choice is the Radeon HD 7990 graphics card. No other graphics card on the market measures up to the unparalleled gaming experience it delivers, and it comes with eight AAA game titles optimized for AMD Radeon award-winning GCN architecture," said Matt Skynner, corporate vice president and general manager, Graphics Business Unit, AMD. "Once again, AMD shatters the industry benchmark for state-of-the-art graphics technology."
AMD underscored its commitment to offering the best PC gaming experience by introducing the AMD Radeon HD 7990 graphics card with a refreshed "Never Settle: Reloaded" AAA game bundle. In addition to "Crysis® 3," "Bioshock® Infinite," "Tomb Raider™" and four other titles, AMD is including the highly anticipated "Far Cry® 3: Blood Dragon" by Ubisoft®. This new title will also be offered as a thank-you gift to all previous "Never Settle: Reloaded" customers and will be loaded automatically onto existing redemption codes.
"'Far Cry 3: Blood Dragon' is an all-out honest cyber shooter that doesn't take itself too seriously. In a genre saturated with super-serious narrative and realistic settings we felt it was time to inject some good old fashioned robofun into it," said Dean Evans, creative director, Ubisoft. "Ubisoft's relationship with AMD's Gaming Evolved program brings together today's most sought-after titles in PC gaming with the most advanced graphics technology. With AMD Radeon technology, our top games – 'Far Cry 3: Blood Dragon' included – can be played with the quality and performance we intended."
Continued AMD innovations in graphics technology enables gaming enthusiasts to play the latest and most popular PC games at maximum settings: for instance "Tomb Raider" with TressFX Hair enabled, or the demanding "Crysis 3" in 4K resolution. Impressively, the AMD Radeon HD 7990 GPU was the graphics card of choice to showcase the Electronic Arts public unveiling of "Battlefield 4," to be released in the fall of 2013.
Key Features and Benefits of AMD Radeon™ HD 7990 Graphics Card
Ultimate in Speed : Combining two of the world's most advanced GPUs with 6GB of GDDR5 memory, AMD Radeon HD 7990 is the world's fastest graphics card;
More Screen, More Pixels : Supports up to six simultaneous displays with AMD Eyefinity technology and is the ideal graphics card for gaming on Ultra HD displays (4K resolution);
Silence is Golden : At 100% utilization, AMD Radeon HD 7990 GPU's whisper-quiet triple-fan cooler is more silent than a typical library 3 .
"Never Settle: Reloaded" is Now Overloaded
With the launch of AMD Radeon HD 7990 graphics card, AMD is offering the biggest free game bundle in history with a total of eight titles 4 :
"Crysis 3"
"BioShock Infinite"
"Tomb Raider"
"DeusEx: Human Revolution™"
"Sleeping Dogs™"
"Hitman: Absolution™"
"Far Cry® 3"
"Far Cry 3: Blood Dragon"
The AMD Radeon HD 7990 graphics card will be available worldwide in two weeks. MSRP is $999 US.
Supporting Resources
About AMD
AMD (NYSE: AMD) is a semiconductor design innovator leading the next era of vivid digital experiences with its groundbreaking AMD Accelerated Processing Units (APUs) that power a wide range of computing devices. AMD's server computing products are focused on driving industry-leading cloud computing and virtualization environments. AMD's superior graphics technologies are found in a variety of solutions ranging from game consoles, PCs to supercomputers. For more information, visit www.amd.com .
AMD, the AMD Arrow logo and Radeon are trademarks of Advanced Micro Devices, Inc. Other names are for informational purposes only and may be trademarks of their respective owners.
In tests by AMD as of 28 February, 2013, the AMD Radeon™ HD 7990 showed higher average performance than the NVIDIA® GeForce® GTX 690 in the 3DMark® Fire Strike Extreme (FS6407 vs. FS5316) and Crysis 3 (1080p & 1600p at all quality presets). System configuration: Intel® Core™ i7-3960X (3.30 GHz), MSI X79A-GD65, 16GB DDR3-1600 and Windows 8 x64. AMD Radeon™ HD 7990 evaluated with AMD Catalyst™ 13.2 Beta 6. NVIDIA® GeForce® GTX 690 evaluated with NVIDIA® ForceWare™ 310.90 WHQL. GRDT-32
AMD Eyefinity technology supports up to six DisplayPort monitors on an enabled graphics card. Supported display quantity, type and resolution varies by model and board design; confirm specifications with manufacturer before purchase. To enable more than two displays, DisplayPort™-ready monitors are strongly recommended. Maximum two active DisplayPort adapters supported. Additional hardware may be required; see www.amd.com/eyefinityfaq for full details.
In tests by AMD, the noise level created by the AMD Radeon™ HD 7990 measured at 30.1 dBA (system idle) and 37.8 dBA (furmark). By comparison, a typical decibel level in a library is 40.0 dBA (" Comparative Examples of Noise Levels ," Industrial Noise Control, Inc.)
Get Key Codes for free downloads of Deus Ex: Human Revolution™, Sleeping Dogs, Hitman Absolution™, Far Cry® 3, Far Cry® 3: Blood Dragon, Tomb Raider, BioShock Infinite and Crysis 3 PC Games accessed through the Steam®, EA Origin® and Uplay online gaming platforms when you buy an AMD Radeon™ HD 7990, Graphics Card from a participating retailer between April 16, 2013 and either October 1, 2013 or when supply of Key Codes is exhausted, whichever occurs first. Key Codes must be used by October 22, 2013, after which the Key Codes are void. LIMIT: One (1) free Key Code per game (8 total Key Codes) per person. Internet connection required. Internet connection fees may apply. You must be 17+ to redeem this offer. Offer is subject to geographical limitations. See www.amd.com/neversettlereloadedoffer for complete details. Void in any jurisdiction where prohibited