Acer's mobile computing VP Campbell Kan said his company is developing a notebook with a 3D display for late October.
The first model should have a 15.6-inch screen and will both recognize 3D movies natively as well as convert typical movies to a pseudo-3D format. Whether or not it will support 3D games isn't mentioned, but Kan tells DigiTimes it will initially require stereoscopic glasses like most existing displays.
The notebook will be one of Acer's earliest to run Windows 7 and so won't be announced until the software itself is official. A notebook with 3D usable without glasses is also in development, though there are enough issues with developing the hardware that Kan doesn't have a timetable for its own release.
Besides the 3D portable, the company is also planning a third-generation Aspire One netbook for either the spring or summer of 2010. It will reportedly have elements of always-on networking and "convenience" and borrow elements from mobile Internet devices (MIDs) as well as Qualcomm's smartbooks, which emphasize a small form factor design, 3G and longer battery life.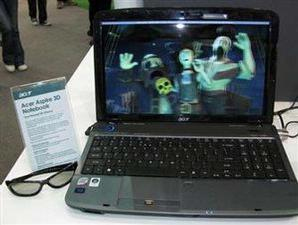 About Acer:
Founded in 1976, Acer ranks among the world's top five branded PC vendors. In 2000, Acer spun-off its manufacturing operation to focus its resources on developing technologically advanced, user-friendly solutions. The decision to support the sales of its product lines through specific marketing activities that best utilise distribution channels, has allowed Acer to achieve excellent results worldwide. Acer's product range includes PC notebooks and Desktops, servers and storage systems, monitors, peripheral devices, digital devices, LCD TVs and e-business solutions for business, Government, Education and home users. Acer employs 5,400 people throughout the world and has created a consolidated sales and service network in more than 100 countries. Revenues reached US $7 billion in 2004.