Amsterdam (The Netherlands), June 7, 2007 -- Canyon, one of the world's fastest growing brands on consumer electronics and IT peripherals market, has launched a series of new uniquely-designed multifunctional handheld digital assistants which are targeted at outdoor and fitness enthusiasts. These brand-new trendy consumer products are immediately available at Canyon partners' stores across Europe, Middle East and Africa.
The newly introduced products are the latest addition to the Canyon Sportsline product range which is developed for active users who are looking for functional, shockproof and water resistant electronic products that can be used for outdoor and indoor sport activities and recreation.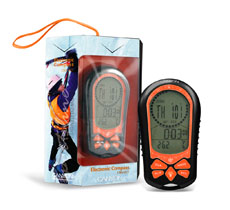 The new Canyon CNS-DC1 "Navigator" combines four essential devices for outdoor activities: electronic compass, thermometer, professional stopwatch and calendar, all integrated into single durable device. Thanks to this device users will be able to keep themselves informed as to where they are heading with 5˚ accuracy, monitor current, maximal and minimal temperature as they go further, and note the time spent on the go on the large, easy-to-read display with backlight. The device offers a comfortable hand grip and a shock-proof and water-resistant body, while its large buttons provide easy access to functions.
Another handheld assistant in this series, the Canyon CNS-DC2 "Explorer", is vital for mountain activities. This digital altimeter can do much more than just measuring and tracking altitude. Integrated hygrometer and barometer functions will help to forecast weather conditions change and prepare for it in advance. All the data, including stopwatch and calendar clock reading, are easily accessible thanks to large LCD display with backlight. The device is enclosed in a rugged housing to prevent damage caused by shock or water.
For fitness, jogging and other sport exercises, Canyon offers CNS-SW1 "SportMaster". This is a fitness watch with heart rate measurement, target zones, alarms and calorie burn counter. This watch comes standard with a chest belt for accurate heart rate measuring. No matter if you are jogging, exercising at gym or at home, wearing Canyon "SportMaster" watch will enable you to keep your workout under complete control. With your age programmed once, the device will automatically create recommended target zones and alarm if your heart rate falls out of selected range. The watch also displays approximate calories/fat burnt during workout and counts duration of training intervals.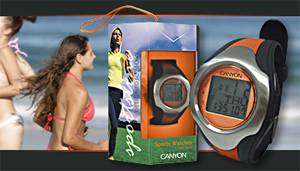 Suitable for outdoor and sports activities like hiking, mountain biking, skiing, jogging and more, the new Canyon line-up offers a handy outdoor watch CNS-SW2 "NavMaster". This is a multifunctional outdoor activity watch with altimeter, compass and thermometer. Users can count on this multifunctional watch for almost any kind of outdoor activity. Lightweight and compact, NavMaster will display altitude, current direction and temperature as well as ascending/descending speed and minimum/maximum temperature in Celsius or Fahrenheit.
The Canyon CNS-SW3 "SkiMaster" is a multi-functional watch for people who enjoy outdoor activities, especially skiing and snow boarding. The special ski mode offers features like slope setting, lap trigger, lap memory, altitude range, ascending and descending speed and travel time. Other features the SkiMaster offers include altimeter, barometer, digital compass, thermometer, and alarm clock.

All devices are covered by Canyon's 2-year limited international warranty.
More information about the new products is available via these links:
http://www.canyon-tech.com/products/sports/navigation
http://www.canyon-tech.com/products/sports/watches

About Canyon
Canyon is one the world's fastest growing brands within consumer electronics. The company has over 150 products in four product lines: Regular line, Sportsline, Platinum series and Value packs. Canyon Technology, a subsidiary of ASBIS Group, was founded in 2000 in Beaverton, Oregon, USA, and has its European head office in Amsterdam. For more information, please visit: www.canyon-tech.com