Amsterdam (The Netherlands), May 15, 2007 - Canyon has announced the official launch of the completely new version of Canyon's corporate website. The new site is available at the previous URL www.canyon-tech.com. May 15th, 2007 will be celebrated as Canyon Day at Canyon's local partners' outlets throughout Europe, Middle East and Africa.
Introduced on the new website are numerous features including enhanced new graphics and functionality, and easy-to-navigate sections that provide fast and easy guest interactivity with the full range of Canyon's resources.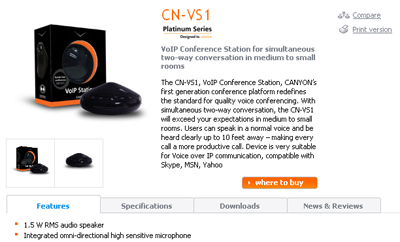 The new website introduces Canyon brand in a colourful way and provides complete information on its product portfolio, operations, customer benefits, sales network, and marketing programs.
Dedicated news channels provide news feeds about corporate developments, latest product releases, as well as product reviews from various countries translated into English. The overhauled website provides direct links to Canyon's sales partners across countries of Europe, Middle East and Africa. There is an option of separately displaying distributors, resellers, retailers, and E-tailers.
However, the main focus point of the new website is the thoroughly redesigned and expanded product catalogue aiming to provide maximum benefits to consumers. The catalogue has been split into functional groups to facilitate product search. The new catalogue features product photos, descriptions, specifications, as well as downloadable product software . Every product page will also provide links to all related product information, such as news, reviews, tests, and press releases. Another improved feature on the website is the customer feedback line which welcomes consumers' comments and suggestions regarding the new website and Canyon's products.
Canyon Day - May 15th, 2007
To celebrate the new website launch, May 15th has been announced Canyon Day. This Day will be marked by spectacular promo events conducted by select Canyon distributors. The list of official Canyon distributors that have confirmed their participation in promotional events is published here .
We will be thankful for your opinion about our web-site. The completion of the form via the following link will qualify you for participation in the promo event in your country: Canyon Day '07 Feedback Form.
About Canyon
With sales channels in more than 50 countries worldwide, Canyon is one of the world's fastest growing brands on consumer electronics and IT peripherals market. Canyon's history goes back to 2002, when Canyon Technology LLC was established in Beaverton (Oregon, U.S.). Its European headquarters and Asian offices were set up in 2003. Canyon offices are currently based in the US, Hong Kong, Taiwan, and the Netherlands. Sales offices operate in 27 countries around the world. The company has over 150 products in four product lines: Regular line, Sportsline, Platinum series and Value packs. For more information please visit www.canyon-tech.com.