Buy online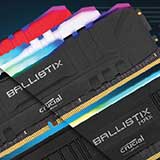 Crucial® Ballistix® gaming memory is designed for high-performance overclocking and is ideal for gamers and performance enthusiasts looking to push beyond standard limits.
With hundreds of awards, multiple esport championships, and numerous overclocking world records under its belt, Crucial® Ballistix® sets the standard for performance.
Some of key features include:
Low-profile form factor
Engineered for the latest AMD and Intel platforms
XMP 2.0 support for automatic overclocking, or run at JEDEC default profile
Modern aluminum heat spreader available in three colors
Crucial® is backed by Micron's expert quality and engineering innovation. Micron has produced some of the world's most advanced memory and storage technologies for more than 40 years.
Check out Crucial's all-new Ballistix gaming memory.