Buy online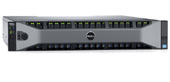 New Dell Storage array series, designed for mid-tier deployments, extends Dell's intelligent data placement technology with an all-flash solution costing up to 72 percent less than competing arrays
New flash and hybrid arrays support diverse workload demands, including support for up to 10,000 Microsoft Exchange user mailboxes in a single 2U SAN
Dell expands software-defined storage portfolio with planned series of Web-scale converged appliances
Dell today announced it will bring its high-end storage capabilities to mid-sized deployments with the creation of a new series of full-featured, enterprise storage arrays. Dell also shared details of its growing software-defined storage (SDS) ecosystem and plans to broaden its portfolio with new Dell converged server and storage appliances.

The new Dell Storage SC4000 Series arrays demonstrate Dell's continued innovation to bring full-featured, enterprise-class storage to cost-efficient, high-performing, mid-tier solutions. With these new arrays, customers can achieve impressive all-flash performance – costing up to 72 percent less than competing pure flash arrays – or a highly cost-efficient combination of high-end flash performance and low-cost disk storage all in one array. The storage array series joins Dell's customer-driven, enterprise data center portfolio of purpose-built solutions designed to make IT more efficient and practical.
"The Dell Storage SC4000 Series is redefining the economics of enterprise storage, offering the advanced capabilities of larger-scale enterprise storage and outstanding price for performance to help customers with mid-tier storage needs become more competitive, " said Alan Atkinson, vice president and general manager, Dell Storage. "While Dell continues to make huge strides in evolving our storage portfolio with industry leading value propositions for customers seeking innovative SAN technology, we're also supporting organizations opting for a revolutionary approach to data management by growing our portfolio of software-defined storage and converged solutions."
New Dell Storage Arrays Bring Large-Scale, Enterprise-Class Features to Smaller Deployments
Supporting customers seeking high-performing and cost-efficient storage arrays at a smaller scale, the new Dell Storage SC4000 Series arrays will debut with the enterprise-class Dell Storage SC4020, a 2U, 24-drive storage area network (SAN).These enterprise-class arrays leverage technology from both the Dell Compellent and EqualLogic family of products, incorporating full-featured Dell Storage Center 6.5 array software and the EqualLogic iSCSI software stack. The new series supports both Fibre Channel and iSCSI connectivity and is designed to offer the same advanced capabilities as larger SANs in a solution sized and priced for mid-sized deployments.
The Dell Storage SC4020, which can scale to more than 400 terabytes of raw capacity, supports a wide range of workloads for organizations, across all industries and sizes, seeking a high-performing, mid-sized SAN entry point or a remote or branch office storage solution. For example, the Dell Storage SC4020 can host up to 10,000 Microsoft Exchange 2013 user mailboxes in a single 2U SAN with 24 hard disk drives or can achieve nearly 120,000 IOPS (input-output operations per second) with less than one millisecond latency for OLTP or mixed workloads.

The new arrays will launch with the same intelligent data placement capability as the Dell Compellent SC8000 that moves data among traditional rotating drives, write-optimized flash (SLC), and read-optimized flash (MLC) drives to optimize overall storage costs. Customers can achieve all-flash performance for the price of 15K disk technology with real time tiering between flash drive types, thereby reducing storage costs and gaining from all-flash performance to support applications, such as OLTP database workloads, where previously all-flash storage might have been deemed cost prohibitive.

The Dell Storage SC4020 also provides an excellent replication partner for Dell Compellent SC8000 arrays, allowing customers to seamlessly connect and manage arrays together with a single, centralized management interface that can help simplify operations and reduce total cost of ownership. The new Dell Storage array series also offers customers:
Unprecedented value with a highly efficient SAN and compact size, making it ideal for mid-sized needs or remote or branch office deployments
Enterprise-class performance with dual controller capability and SAN optimized for all-flash or hybrid SSD/HDD configurations
World class intelligence with advanced levels of automation and control to auto-tune the customer's storage environment
Advanced software capabilities such as real-time automated tiering, replication, thin provisioning, snapshots and centralized management for multiple local and remote SANs
Perpetual software licensing that enables customers to pay only once for software features, even across hardware upgrades
Unified storage with the ability to manage both block and file storage, with the Dell Fluid File System, from a single management console
World class Dell Copilot support services that provide a combination of centralized support and 24x7 active system monitoring to help improve system performance and stability

Dell Grows Software-Defined Storage Portfolio
Dell also today announced growing support for a diverse set of software-defined storage solutions, broadening its partner ecosystem with a new go to market relationship with Nutanix. With the new agreement, Dell plans to offer customers the Dell XC Series of Web-scale Converged Appliances, which combine compute, storage and networking into a single offering, powered by Nutanix software. The new appliances will benefit customers seeking an integrated IT approach, offering simple deployment, management and scale as needed.

As SDS begins to find its way into the enterprise storage and the larger software-defined data center discussions, some organizations are looking to move towards revolutionary solutions where the components – compute, storage and networking – are tuned to work together for optimized application performance and ease of management and scale through automation and IT orchestration.

With a focus on delivering end-to-end data center capabilities, Dell offers customers multiple SDS options, along with its partners, where Dell hardware, services and support are integral to the solutions. Dell's broad and open approach to SDS includes integration with open source platforms and leading hypervisor vendors to provide a breadth of customer-centric SDS solutions to address various business needs.