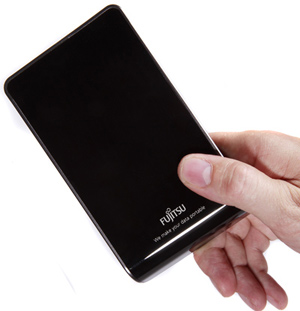 Fjitsu Europe Limited announced its new 15mm-high slimline HandyDrive series, featuring power-saving 2.5-inch portable hard disk drives (HDD) with up to 500GB* storage space. The travel-ready drives are designed for busy mobile professionals looking for ecology-friendly, compact-size external HDDs. They are engineered for universal application and are fully equipped with the necessary components for easy data transportation.
Their advanced utility management reduces read/write power consumption by 30% compared to earlier models and by 35% in stand-by mode over normal idle operation. Additional safety features include a password lock tool option to secure stored data and prevent unauthorized access and a new backup tool option of Acronis True Image HDD Personal.
Industry-leading 2.5-inch external HDD profile
The new slimline HandyDrives are ideal for storing work files, multimedia applications, photos, videos and MP3s, as well as temporary data backup, data exchange, data transport, and security solutions. Available storage capacities are 250GB*, 320GB*, 400GB* and 500GB*. This latest range is just 15mm x 83.5mm x 137.5mm (HxWxD)
in size and weighs less than 175 grams, being 30% lighter than the previous range.
Bus-powered USB 2.0 interface
The new HandyDrives are bus powered via a USB 2.0 interface, requiring no batteries, power packs or other power sources, and are compatible with the older USB 1.1 interface.
Utility software
Fujitsu's new HandyDrives are bundled with beneficial utility software, a password lock tool – to prevent data misuse from unauthorized access, and a special backup tool of Acronis True Image Personal HDD for fast and easy data backup on a user's computer. Both password lock tool and backup tool support seven European languages: English, French, German, Italian, Portuguese, Russian, and Spanish.
Availability and price
Fujitsu's new HandyDrive models with 320GB* and 400GB* capacities will be available in EMEA (Europe/Middle East/Africa) by January-end 2009, priced at 85€ (320GB*) and 119€ (400GB*) recommended retail. The 250GB* and 500GB* devices will become available mid-February 2009, with a recommended retail price of 75€ (250GB*) and 129€ (500GB*). Prices may vary depending on local VAT rates.

Buy online Fjitsu HandyDrives at ASBIS B2B e-Shop
Recent news about Fujitsu products
For more information about Fujitsu Europe Limited or our products and product photos, please visit the Internet under http://emea.fujitsu.com/felg
* One gigabyte (GB) = one billion bytes; accessible capacity will be less and actual capacity depends on the operating environment and formatting.
About Fujitsu
Fujitsu is a leading provider of IT-based business solutions for the global marketplace. With approximately 160,000 employees supporting customers in 70 countries, Fujitsu combines a worldwide corps of systems and services experts with highly reliable computing and communications products and advanced microelectronics to deliver added value to customers. Headquartered in Tokyo, Fujitsu Limited (TSE:6702) reported consolidated revenues of 5.3 trillion yen (US$ 53 billion) for the fiscal year ended March 31, 2008. For more information, please see: www.fujitsu.com.