Inno3D® is excited to announce the grand unveiling of the Inno3D GeForce GTX 480 and GTX 470.
The GTX 480 boasts an amazing 480 shader processors, a 384-bit interface to 1.5GB of onboard GDDR5 RAM, and clock speeds of 700MHz, 1,401MHz, and 1,848MHz for the core, shaders and memory, respectively - the GTX 470 has 448 SPs and with a 320-bit memory interface. GTX480/470 was redesigned from the ground up to deliver the best performance on DX11 - adding dedicated engines in the GPU to accelerate key features like tessellation.
Game performance and image quality has received a tremendous boost, enabling film-like geometric realism for game characters and objects. Geometric realism is central to the GTX480/470 architectural enhancements for graphics. In addition, PhysX simulations are much faster, and developers can utilize GPU computing features in games most effectively.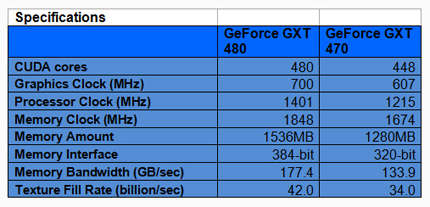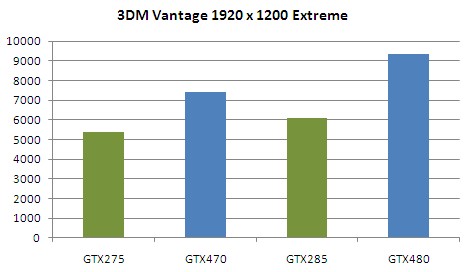 The left three bars in the chart show tessellated geometry performance for three directed tests that focus exclusively on tessellation performance. As geometric complexity is increased, GF100's performance increases. The Hair and Water demos include both shading and compute operations in addition to geometry processing. The rightmost bar shows the performance of a tessellation state bucket (a set of draw calls from a frame) from a DirectX 11 application.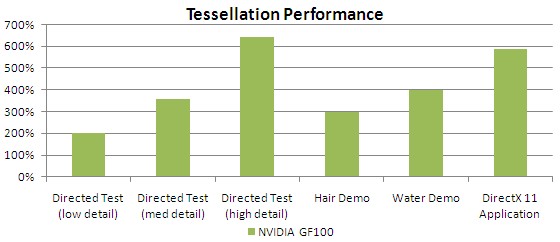 Ultrafast 8x AA and Texturing (Antialiasing Performance – Hawx)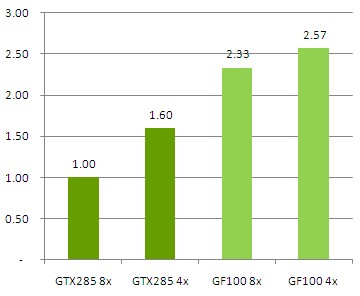 In the previous generation, performance drop in 8xMSAA modes varied significantly depending on the title; Tom Clancy's HAWX is one example of a game that showed low efficiency in 8xMSAA. In GF100 the 8xAA performance is much improved. In 4xAA mode, GF100 is 1.6× faster than GT200. Comparing in 8xAA mode, GF100 is 2.3× faster than GT200, and only 9% slower than the GF100 4xAA mode. GF100 also features a new 32x Coverage Sampling Antialiasing (CSAA) mode designed to provide the highest image quality and improve the level of perceived geometric realism in current games using alpha-to-coverage.
Texturing Performance Relative to GT200 (Application State Buckets)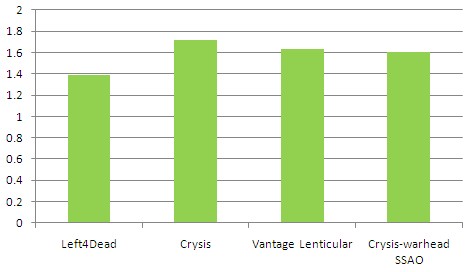 The texture units support jittered sampling through DirectX 11's four-offset Gather4 feature, allowing four texels to be fetched from a 64 × 64 pixel grid with a single texture instruction. GF100 implements DirectX 11 four-offset Gather4 in hardware, greatly accelerating shadow mapping, ambient occlusion, and post processing algorithms. With jittered sampling, games can implement smoother soft shadows or custom texture filters efficiently.
Key features
Microsoft DirectX 11 support
NVIDIA CUDA™ technology with CUDA C/C++, DirectCompute 5.0 and OpenCL support
NVIDIA PhysX™ technology
NVIDIA SLI® -Ready
NVIDIA 3D Vision™ Surround Ready*
NVIDIA PureVideo® HD technology**
PCI Express 2.0 support
Two dual-link DVI-I connectors
One mini-HDMI 1.3a connector
Dual-link HDCP-Capable***
OpenGL 3.2 support
NIVIDIA® CUDA™ technology
CUDA technology unlocks the power of the GPU's processor cores to accelerate the most demanding systems tasks – such as video transcoding – delivering incredible performance improvements over traditional CPU's
NIVIDIA® PhysX® technology
GeForce GPU support for NVIDIA PhysX technology, enabling a totally new class of physical gaming interaction for a more dynamic and realistic experience with GeForce.
NIVIDIA® 3D Vision™ Ready
GeForce GPU support for NVIDIA 3D Vision, bringing a fully immersive stereoscopic 3D experience to the PC. A combination of high-tech wireless glasses and advanced software, 3D Vision transforms hundreds of PC games into full stereoscopic 3D. In addition you can watch 3D movies and 3D digital photographs in eye popping, crystal-clear quality.
NIVIDIA® 3D Vision™ Surround Ready
Expand your games across three displays in full stereoscopic 3Dfor the ultimate "inside the game" experience with the power of NVIDIA 3D Vision and SLI technologies. NVIDIA® surround™ also supports triple screen gaming with non-stereo displays.
Microsoft Windows 7 Support
Windows 7 is the next generation operating systems that will mark a dramatic improvement in the way the OS takes advantage of the graphics processing unit (GPU) to provide a more compelling user experience. By taking advantage of the GPU for both graphics and computing, Windows 7 will not only make today's PC's more visual and more interactive but also ensure they have the speed and responsiveness customers want. For more information please visit www.inno3d.com
Take gaming to another level with Inno3D® GeForce® GTX 480 and GeForce® GTX 470, and immerse in high definition worlds experiencing graphics so real it redefines gaming reality boundlessly. Prepare to be mesmerized with PhysX technology and be jolted with extreme synapse firing from the visual simulation.
Learn more about Innovision products