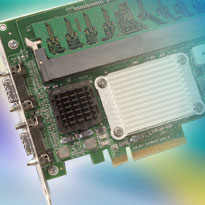 LSI MegaRAID Release 3.6 Advances Solid State Drive Management and Data Protection for SAS/SATA Adapters. New features also enable hard drive spin-down for reduced power consumption and energy costs; extend VMware virtualization support
LSI Corporation (NYSE: LSI) today announced MegaRAID® Release 3.6, which provides new features and advanced functionality for 3Gb/s MegaRAID SAS 87XX and 88XX series adapters. New features include enhanced management and data protection capabilities for solid state drives (SSD), hard drive spin-down for reduced power consumption and expanded VMware® virtualization support.
"Because of their speed, reliability and decreasing cost, solid state drives are beginning to be deployed for mainstream applications," said Roger Cox, Research Vice President, Gartner. "As SSD adoption expands, leading-edge storage management devices will allow users to realize the benefits of SSD without compromising storage configurability, manageability or availability."
SSDs can read randomly stored data up to 100 times faster than rotating media, thus are ideally suited for OLTP, database queries, high-bandwidth networks and operating environments requiring frequent page swaps. MegaRAID Release 3.6 offers full support for SSD technology by providing a comprehensive set of management tools within the MegaRAID Storage Manager (MSM). Users now have the ability to control and manage solid state drives just as is possible with hard disk drives (HDDs) and prevent improper utilization such as mixing SSDs and rotating HDDs. MSM limits maintenance I/Os to the SSD which can improve performance and extend useable life.
MegaRAID Release 3.6 also offers a new feature called SSD GuardTM, which increases the reliability of system configurations using SSDs and provides added data protection for users employing RAID 0 configurations. By leveraging revertible hot spare and predictive failure event notifications to automatically initiate a rebuild to a spare, data is preserved on an SSD whose health or performance falls below par.
Lower power, extended virtualization support and Tylersburg ready
The new MegaRAID Dimmer SwitchTM feature provides green benefits to data centers by reducing the power consumption of devices attached to MegaRAID adapters. With MegaRAID Release 3.6, any unconfigured drive connected to a MegaRAID adapter will be spun down after thirty minutes of inactivity. This eliminates inefficiencies created by the continuous supply of power to every drive regardless of usage.
"As SAS continues to drive the resurgence of the direct-attached storage market, customers expect host-based RAID solutions to support advanced technologies such as SSD, hard drive spin-down and virtualization," said Kelly Bryant, DAS RAID business line director, Engenio® Storage Group, LSI. "These advanced, cost-saving features are available to customers today on our 3Gb/s SAS MegaRAID adapters, and will be available later this year on our 6Gb/s SAS offerings."
MegaRAID Release 3.6 also extends virtualization support for VMware hypervisor technology to include the recently announced ESXi version. With full validation and support for ESX and ESXi, OEMs and system builders can now use MegaRAID Storelib-based management tools without the need to rewrite applications to run in the small footprint ESXi environment. Additionally, Release 3.6 adds Unified Extensible Firmware Interface (UEFI) 2.0 support for the new Intel Tylersburg chipset. The MegaRAID UEFI driver enables system builders to define a clean interface between operating systems and the platform at boot time, and supports an architecture-independent mechanism for initializing add-in cards.
Buy LSI MegaRAID at ASBIS B2B e-Shop | Buy more LSI Products at ASBIS B2B e-Shop
About LSI
LSI Corporation (NYSE: LSI) is a leading provider of innovative silicon, systems and software technologies that enable products which seamlessly bring people, information and digital content together. The company offers a broad portfolio of capabilities and services including custom and standard product ICs, adapters, systems and software that are trusted by the world's best known brands to power leading solutions in the Storage and Networking markets. More information is available at www.lsi.com.