Newest MegaRAID adapters deliver SAS/SATA functionality, while addressing the growing demand for cost-effective RAID 5 solutions
LSI Logic Corporation introduced the newest line of MegaRAID® SAS (serial attached SCSI) adapters, the 8200 series, which supports SAS and SATA (serial ATA) II drives without the cost premiums typically associated with SAS RAID controllers. The new adapters are based on first-to-market LSI SAS IC (integrated circuit) technology and the proven MegaRAID RAID stack, providing low-cost RAID 5 solutions for mid- to low-end server and workstation environments where high-performance and reliable data protection are required. Volume shipments begin in March.

The new MegaRAID line delivers SAS storage adapters featuring SATA and SAS RAID functionality at cost parity with SATA-only adapters. With this offering, channel customers can now configure custom systems employing a SAS/SATA adapter with low-cost SATA drives and/or high-performance SAS drives.
"With our new 8200 series of MegaRAID adapters, channel customers now have access to robust, low-cost RAID 5 solutions that eliminate the need to choose between SAS and SATA," said Mike Gurin, sales director, storage solutions, LSI Logic. "By offering SAS/SATA adapters at SATA pricing, LSI is creating a new paradigm in storage connectivity."
The first products of the new family are the 4-port MegaRAID SAS 8204 and 8-port MegaRAID SAS 8208 adapters, ideal for cost-sensitive applications not requiring battery-backed cache. The low-profile adapters provide internal SAS solutions for storage systems requiring the flexibility to deploy 4 or 8 SAS and/or SATA drives respectively to address performance and capacity requirements. Both adapters are available in PCI-X and PCI-Express models.
MSRP pricing for the MegaRAID SAS 8204 will be $229 and MSRP pricing for the MegaRAID SAS 8208 will be $315.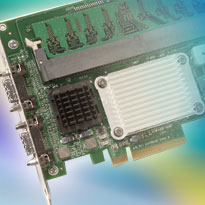 The 8200 MegaRAID cards are supported by the MegaRAID Management SuiteTM of software - a complete spectrum of applications and tools including next-generation pre-boot and advanced online RAID management utilities. These applications feature a variety of configuration options and SAS topology views from the system host, controller and disk enclosure down to the logical and physical drive level. For administrators, this means the ability to efficiently configure, monitor and manage RAID volumes locally or over the network.
As the only vendor in the industry to offer a complete line of SAS/SATA adapter solutions ranging from host bus adapters with Integrated RAID, to entry-level RAID 5 adapters, up to enterprise-level RAID adapters with support for all RAID levels and battery backup, LSI provides the channel with a wealth of SAS/SATA adapters to fit every need and budget. LSI storage adapter products are supplied in the channel in North America through distribution partners including Arrow Electronics, ASI, Bell Microproducts, Ingram Micro, and Microland Electronics. LSI products also are available at CDW, Fry's Electronics and NewEgg.com.
Additional information on the new MegaRAID adapters can be found at:
http://lsi.com/storage_home/products_home/internal_raid/megaraid_sas/index.html
DownloadProduct Datasheet
About LSI Logic
LSI Logic Corporation (NYSE: LSI) is a leading provider of silicon-to-systems solutions that are used at the core of products that create, store and consume digital information. LSI offers a broad portfolio of capabilities including custom and standard product ICs, host bus and RAID adapters, storage area network solutions, and software applications. LSI products enable leading technology companies in the Storage and Consumer markets to deliver some of the most advanced and well-known electronic systems in the market today. More information is available at www.lsi.com.