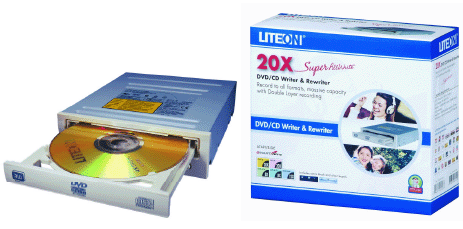 LH-20A1P and LH-20A1H – The worlds first 20x DVD Rewriters by Lite-On IT
Eindhoven, The Netherlands - Many people thought 16x would be the maximum writing speed for DVD, but after the introduction of 18x DVD rewriters, Lite-On IT increases the industry standard even further by releasing the worlds first 20x DVD rewriters. With the introduction of two new internal DVD rewriters, the LH-20A1P and LH-20A1H, Lite-On IT is the first ODD manufacturer that boosts writing speeds up to 20x, reaching the fastest ever recording times for DVD media.
"As a World leading provider of optical storage solutions for PCs Lite-On IT is obliged to stay in front with new technological breakthroughs", says Jelmer Veldman, Lite-On IT's European marketing manager. "Lite-On is the first brand to release a 20x DVD writer. With this drive we can see recording times of a full DVD coming close to five minutes. The drive also features DVD-RAM compatibility at 12x, making it a very complete optical storage solution for everyone's needs. And for the creative user Lite-On will release a LightScribe version of this drive as well", Mr. Veldman adds.
The Lite-On LH-20A1P and LH-20A1H are "Super AllWrite™" DVD writers providing consumers a one-stop archival and presentation solution for anyone who has a need to copy and store information, files, photographs, music or any other important data. Both are capable of reading, writing and re-writing any disc format on the market, including DVDRAM and Double-Layer +/- format discs. Both DVD writers also feature Smart-Write™ technology setting the optimal writing strategy. Furthermore, The LH-20A1H is equipped with LightScribe technology. The Lite-On LH-20A1P will be available in Europe end of December 2006. The Lite-On LH-20A1H will be available in Europe early 2007.
About SmartWrite™
SmartWrite™ optimizes the writing strategy for each particular writing session. Through the drive's self learning mechanism, it automatically detects and decides the optimal write strategy for DVD±R recordable media.
About LightScribe
LightScribe is an innovative technology that uses a special disc drive, special media, and label-making software to burn labels directly onto the surface of a CD or DVD in a very easy way: BURN the data, FLIP the disc and BURN the label. Because the labels are laser-etched (not printed), there's no ink, no smudging and no peeling.
Specifications (LH-20A1P & LH-20A1H)
DVD
Write :
DVD+R 20X maximum by CAV
DVD+R DL 8X maximum by CLV
DVD-R 20X maximum by CAV
DVD-R DL 8X maximum by CLV
ReWrite :
DVD+RW 8X maximum by Z-CLV
DVD-RW 6X maximum by CLV
DVD-RAM 12X maximum by P-CAV
Read: DVD-ROM 16X maximum by CAV
CD
Write: CD-R 48X maximum by CAV
ReWrite: CD-RW 32X maximum by Z-CLV, in Ultra Speed disc
Read: CD-ROM 48X maximum by CAV
LightScribe Labeling (LH-20A1H only)
CD Labeling : 1.6X
DVD Labeling : 1.6X
Access time ( maximum ): DVD: 160ms, CD: 160ms
PC Requirements: Pentium 4 1.3 GHz or faster CPU and 128MB or higher RAM are required 650MB HDD available capacity; and 9GB free space for creating a DVD image file
Compatibility : Windows 98SE / ME / 2000 / XP
MTBF: 70,000 POH at 25% duty cycle in room temperature
Environment : Operating: 5°C to 50°C; Relative Humidity: 15% to 80%; Non-Operating: -40°C to 65°C; Relative Humidity: 15% to 95%
Dimensions : 145.8(W) x 41.3(H) x 170(D) mm
Weight : < 900g
About Lite-On IT:
Lite-On IT Corporation is part of the Taiwanese Lite-On Group, which consists of nine consolidated companies. Lite-On Group, founded in 1975, is a world leading company in digital convergence (3C: Computer, Communications, and Consumer electronics) employing 35,000 people worldwide. Lite-On Group has 45 factories, 29 branch offices, and 4 R&D centers worldwide and generated total revenue of 5.2 Billion USD in 2005. Lite-On IT was founded in 1995 and has grown since to become the World's 2nd largest optical disc drive manufacturer.