Limassol (Cyprus), April 27, 2007 -- Prestigio Technologies Ltd., a dynamic international vendor of state-of-the-art products for Digital Home and Digital Office, has announced the upcoming international contest of artistic photography dubbed "People – The Art of Life". The contest welcomes entries from amateur and professional photographers from April 30th till June 25th, 2007.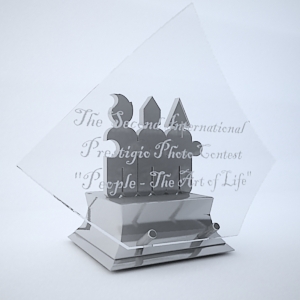 The Contest will be open to photographers from around the globe, from all backgrounds, ages and levels of experience. The Contest jury will however accept only the entries performed at a high artistic level and relevant to the contest theme "People – The Art of Life".
The theme of the Contest implies that high technologies make just a part of our lives aiming to improve it, rather than replace it. There is nothing more precious than human emotions and happy moments in our lives – the things that are a driving force behind our actions. Prestigio believes that the Art is a way of life making its every moment beautiful. Living your life in such a way that your experiences leave deep traces in your memory is "The Art of Life".
The detailed rules of the contest will shortly be published in English at the Contest's official international website art.prestigio.com, and in other languages at Prestigio's national websites.
The winners of the upcoming photography Contest will receive substantial cash and hi-tech product awards. The Grand-Prix winner will receive Prestigio's fascinating portable media recorder with TV tuner PMR-701, and a cash award of USD700.
The winner in the special nomination "Prestigio in The Art of Life" featuring artistic photos of Prestigio products in lifestyle scenes, is entitled to receive Prestigio's elegant portable hard disk drive Data Safe II, and a cash award of USD300.
The winner in another special nomination "Kids – The Art of Life" featuring artistic photos of children will also get Prestigio Data Safe II, and a cash award of USD300.
The winner of the popular vote that will be held at the official Contest website will get Prestigio's portable multimedia player PMP-501, and cash award of USD200.
Prestigio has made it a tradition since 2004 to hold several artistic contests each year aimed at promoting the Prestigio brand and identifying and encouraging gifted artists, photographers and designers from around the world. The recently finished cartoon contest "Funny High-Tech in Art" drew almost 400 entries from 33 countries worldwide.
All contest entries will be available for viewing in Prestigio's Virtual Photo Gallery:
http://art.prestigio.com/

About Prestigio
Prestigio Technologies Ltd. is a highly dynamic IT company providing Digital Home and Office consumer solutions to the market. Having started as a small R&D subsidiary of ASBIS Group, during the last several years Prestigio has become a supplier of unique hi-tech solutions and products to consumer market. Digital Home and Digital Office are the two main focus areas of the company. Investing in the combination of "The Art of Hi-Tech" (solutions where hi-tech products become works of Art), the company has uniquely positioned itself on the market. Currently headquartered in Cyprus, Prestigio actively operates in the EMEA region through representative offices and business partnerships located in key business centres of the region and offering its customers an excellent portfolio of cutting-edge IT products and value-added services.
For more information please visit www.prestigio.com.
All trademarks and registered trademarks are the property of their respective owners.