Prestigio unveiled last week a new member of its Racer Collection, the DataRacer II (DR2). This external hard disk drive (HDD) is a high performance storage device just like our DataRacer I, but it has a different design elaborated by a creative Italian designer. The new Prestigio DataRacer II is now available at our partners' stores across Europe, Middle-East and Africa.
In line with Prestigio's Racer Collection, the DR2's color scheme and sturdy look were inspired by famous racing cars. This model offers the same specifications as the DataRacer I, but a bold, mighty design. "The DataRacer II is one cool gadget to have", said Catherine Lazure-Guinard, Communications Manager at Prestigio. "It features a more researched look that definitely stands out, with strong lines and more carbon detailing."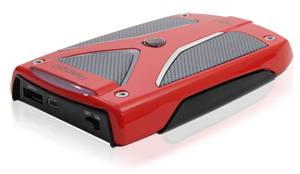 Demades Design, an industrial and automotive design studio, is the creative mind behind the look of the DR2. "We are very satisfied with the results of our partnership with Demades Design", confirmed Geert van Dijk, VP Sales & Marketing at Prestigio. "The product concept they offered us is definitely grasping the philosophy of our Racer Collection."
The design is surely attractive, but the advanced specs of this product are also powerful. It provides you with ultimate speed, high performance and efficiency, which makes it a fierce storage solution for all your valuable data. This 2.5" eSATA portable HDD provides you with up to 500GB of space, and will spin around at an impressive 7200rpm. The DataRacer II features a Turbo mode which enables you to accelerate and improve data transmission by 25% compared to a regular external HDD. This device does not require a power supply, due to its USB 2.0 interface.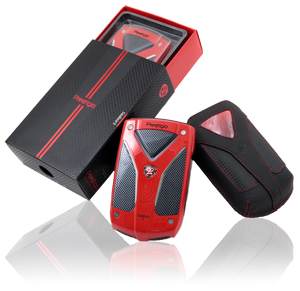 A stylish genuine leather protective case in similar color scheme is offered with the DataRacer II. It is compatible with virtually any computer and supports Microsoft Windows 2000/XP/Vista, Mac OS and Linux. It also features Plug-and-Play capability to make it easy for you to install.
Key features:
eSATA 3Gbits for high speed data transfer
Data transmission enhanced by 25% with Turbo mode
Compatible with PCs and MACs
Activity LED lights
Slim and light design with fire red body with carbon fiber details
Genuine leather protective bag included
On/Off button for power saving
Enclosure size: 134.6x82x18.2mm (Lx W x H)
Warranty of two years
The choice is yours among our models with different capacity and prices (USD):
Model PDR232 with 320GB + 5400rpm, RRP $179.99
Model PDR250 with 500GB + 5400rpm, RRP $224.99
Model PDR2F50 with 500GB + 7200rpm, RRP $299.99

More information on the DataRacer II:

Data sheet | General presentation | Racer Collection | Information on Demades Design
About Prestigio
The Prestigio brand offers an exclusive combination of elegance and sophistication, high product quality, advanced technology and state-of-the-art design. We aim to provide an enhanced quality of life with affordable luxury products to those who enjoy a cosmopolitan lifestyle. Our portfolio encompasses various collections with GPS navigators, digital photo frames, storage devices, portable DVD players, notebook bags, and more. For more information, contact press@prestigiocorporate.com
More Prestigio Products: