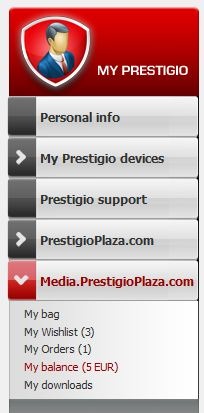 Prestigio is glad to re-launch its e-shop PrestigioPlaza.com with great benefits for consumers.
As of March 2012 Prestigio product owners experience an entirely new level of shopping in terms of comfort, benefits, customer care, product information and offering of eBooks. At PrestigioPlaza.com everybody can create their personal "My Prestigio" account and register all their Prestigio products, be it a simple mouse, keyboard, any accessory or the High-Tech device like a MultiPad Tablet PC, Nobile eBook Reader or a GeoVision PND.
"My Prestigio" is the new privileged access with many benefits for consumers to the wide portfolio on PrestigioPlaza. Besides the attractive range of IT and CE products by Prestigio, registered users can shop for more than 220,000 eBooks – growing continuously – in 20 different languages.
Another and potentially the most important benefit is the possibility to use specially created prepaid cards. Prestigio Market prepay cards can be bought in 5€, 10€, 20€, 50€, 100€ increments. Paying with a Prestigio Market prepaid card will first of all save lots of time. Having some balance on a prepay card will spare anyone from entering the bank details every time they make a purchase and will let them enjoy a one-click shopping experience. Besides that, Prestigio Market prepay cards would make a great gift and can be redeemed for anything available at PrestigioPlaza, be it Prestigio products or media content.

All purchases done via Prestigio Market prepay cards or via a different payment method can be managed 24/7 in the "My Prestigio" account. The users will also benefit from service support and communication in their native language with the experts of Prestigio. My Prestigio ensures the question falls in the correct category and is being answered within a short period of time. The owners of the registered products will have the most current information about available drivers, firmware or software updates, as well as will be able to monitor the release of related products, all of it - at one spot. In the future, the users will even be able to receive extended warranty for the registered products or to control the date of its completion.
Regularly there will be great offers and bargains, exclusively limited to the members of "My Prestigio".
For most comfort, safety and transparency, "My Prestigio" now is a one-stop-shop. Users can create and manage their personal wish list, check their balance and view their history of purchases and downloads. Digital content like eBooks can be downloaded up to 5 times.