Prestigio is proud to launch its Racer Collection with the introduction of the DataRacer I, a high performance storage device with a unique design.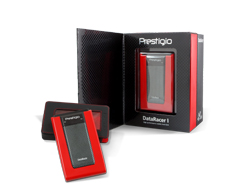 For ultimate speed, high performance and efficiency, the DataRacer I is the storage solution for all your valuable data. This 2.5" SATA portable external hard disk drive (HDD) provides you with up to 500GB of space, and will spin around at up to 7200rpm for an impressive performance. It features a Turbo mode which enables you to accelerate and improve data transmission by 25% compared to a regular external HDD. It also has an eSATA Port for even more speed. This device does not require a power supply, due to its USB 2.0 interface.
The DataRacer I has a slim and light design, with a resistant housing. The fire red body with carbon fiber detailing was inspired by legendary racing machines. A stylish genuine leather protective case in similar color scheme is offered with this external HDD. The DataRace I is compatible with virtually any computer and supports Microsoft Windows 2000/XP/Vista, Mac OS and Linux. It also features Plug-and-Play capability to make it easy for you to install.
The choice is yours among our models with different capacity:
Model PDR132 with 320GB + 5400rpm
Model PDR150 with 500GB + 5400rpm
Model PDR1F50 with 500GB + 7200rpm

Key features:

eSATA 3Gbits for high speed data transfer
Data transmission enhanced by 25% with Turbo mode
Compatible with PCs and MACs
Activity LED lights
Slim and light design with fire red body with carbon fiber details
Genuine leather protective bag
On/Off button for power saving
Enclosure size: 134.6x82x18.2mm (Lx W x H)
Warranty of two years

The DataRacer I is part of the new Prestigio Racer Collection, which also offers mice and webcams in the same color scheme.

Data Racer at ASBIS B2B marketplace | More Prestigio news