Affordable and Feature-rich Network Attached Storage and Digital Media Server
Promise Technology® Inc., a leading supplier of cutting edge RAID storage solutions for enterprise, SMB, SOHO and consumer customers has announced the availability of the SmartStorTM NS4600 Next-Generation High Performance Network Attached Storage and Digital Media Server for Home, SOHO and Small Business. The SmartStor? NS4600 boasts support for up to 4 SATA 3G Hard Drives (not included) and is built on Intel's EP80579 Processor running at 600 MHZ, includes 256MB of DDRII Memory, 1 Ethernet, 2 USB 2.0 Ports and 1 eSATA Port.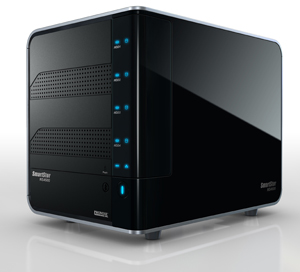 With Jumbo Frames disabled consumers and end-users can expect sequential write performance to average in the mid 30's (MB/s) and sequential read performance to average in the mid 40's (MB/s).
The SmartStorTM NS4600 features a new ultra sleek aesthetic design with Blue LEDs and No Power Supply Fan. The internal Power Supply has been removed and replaced with an external Power Adapter that snaps into the bottom of the SmartStorTM NS4600 and is secured by a removable door. The SmartStorTM NS4600 is one of the quietest 4 Drive Network Attached Storage Devices on the Market today.
The SmartStorTM NS4600 packs tons of features under its slick design such as support for RAID 0, 1, 5 and 0+1 which is accompanied by High Performance over Gigabit Ethernet. As with the SmartStorTM NS4300N and NS2300N, Promise Technology® continues its comprehensive protocol support with AFP, DLNA, CIFS, FTP, NFS, NTP and SMB Protocols which allows customers to use a number of operating systems including Apple Mac OS X, Microsoft's Windows®, Linux and Unix. Other features include Active Directory Integration, support for Apple's Bonjour technology, Download Station, File Sharing over Internet, Hot-plug, NAS to NAS Replication, One Click Configuration, One Touch Backup, Snapshot, True Hot-Swap, Remote Access Media Center, Scheduled Backup, User Quota Management, Wake-on-LAN and Web Server.
"Connected home and small office users are demanding more intelligent and versatile storage solutions at cost effective prices"?said Seth Bobroff, general manager, Intel Server Platforms Group, Storage.?"The Intel EP80579 processor enables Promise to deliver a high performance, energy efficient Network Attached Storage solution with rich multimedia and small business features to help customers more easily share, protect and manage the huge growth of digital content."
Digital Living Network Alliance – DLNA is the leading standard for connecting consumer electronics devices in the home. Consumers can build their Digital Home around the SmartStorTM NS4600 by utilizing the SmartStor'sTM DLNA capabilities to stream Music, Pictures and Video in the Home. As DLNA CertifiedTM Digital Media Server consumers can stream digital content from the SmartStorTM NS4600 using the hottest DLNA CertifiedTM Devices in the market such as Sony's Playstation® 3, Samsung's 750 & 850 Series DLNA LCD TV, Sony's BRAVIA® Z-Series DLNA LCD TV, Pioneer® Elite KURO® DLNA Plasma and much more. Consumers can also stream digital content using Microsoft's XBOX 360TM.
"The Digital Living Network Alliance is firmly positioned to deliver the ultimate in connected devices allowing consumers to connect, explore and stream content in the Digital Home via Digital Media Players such as Sony's Playstation® 3, Digital Media Servers, Mobile Devices, DLNA TV's, online providers and much more", said Billy Harrison, Promise Technology's Product Manager for CE Products - NAS and DAS.
Digital Media Server with Video Playback Support - The SmartStorTM NAS Family is the first Network Attached Storage – Digital Media Server in the market to support streaming with video playback support. Music, movies, music videos and TV shows purchased from the iTunes Store can be stored on the SmartStorTM NS4600 for playback using any of the consumer's 5 authorized computers. Consumers can also store the digital copy of movies that are included with DVD and Blu-RayTM disks on the SmartStorTM NS4600 and stream at their leisure.
"Consumers have amassed a great deal of Digital Content in the home and need solutions that allow them to share content in the home without jumping through hoops", said Billy Harrison, Promise Technology's Product Manager for CE Products - NAS and DAS.
Time Machine for Mac OS X - With the launch of the SmartStorTM NS4600, Mac users have the ability to easily backup multiple Macs via the home or office network to the SmartStorTM NS4600.
Remote Access Media Center - Access Music, Pictures and Videos remotely from anywhere in the world via the SmartStorTM NS4600's Remote Access Media Center. The Remote Access Media Center is built on PHP and HTML allowing access from any device with a web browser and media player such as the iPhone, iPod touch, Windows MobileTM Smartphone, Blackberry, Nokia N Series Phones, Macs and Windows® PC.
Green NAS – The SmartStorTM NS4600 consumes a great deal less power than its predecessor and supports Hard Drive Disk Spin-down and also Wake-On-LAN. In Standby Mode the SmartStorTM NS4600 consumes a mere 6.6w and consumes an extremely modest 51w under full load.
"Rising costs are everywhere and Energy is no exception therefore consumers and business owners need to saving money whenever possible. There is a HUGE difference in power consumption between the SmartStorTM NS4600 and your typical entry level file and storage server packed with a 300w power supply", said Chi Chen, Senior VP of Promise's Network Storage and Solutions Group.
NAS to NAS Replication – With disaster around every corner Small Businesses "must" protect their backups. NAS to NAS Replications allows the IT Admin to "replicate" data on one SmartStorTM NS4600 to another SmartStorTM NS4600. This process can be facilitated over Internet, LAN or VPN leaving the IT Administrator in total control of the archival process. Allowing IT Administrators to replicate data from one SmartStorTM NS4600 to another SmartStorTM NS4600 is the ultimate in piece of mind.
More news about Promise products:
About Promise Technology, Inc.
As the creator of ATA RAID in the 1990's Promise Technology has a long history of innovation. Known as the originator of SATA/ATA RAID products, Promise's comprehensive product base includes Network Attached Storage and Digital Media Servers for Home, SOHO and Small Business in addition to high available (HA) standalone RAID subsystems with standards-based management interfaces, host-based (internal) RAID controllers, and SATA ASICs integrated into an extensive list of industry-leading motherboards and servers. Headquartered in Milpitas, Calif., Promise is ISO-9001:2000 and ISO-14001:2004 certified, and has offices and operations throughout Asia and Europe to support local business partners and customers. For more information, visit Promise Technology's website at www.promise.com.
Promise Technology and SmartStorTM are trademarks or registered trademarks of Promise Technology, Inc. Other trademarks are the property of their respective owners.