BUY ONLINE
Available for order in
January 2010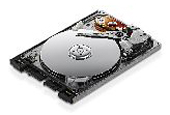 1.8-inch 320GB HDD supports global demand for ultra lightweight, low power consumption portable computing devices
Toshiba Europe Storage Device Division has today announced the launch of the highest capacity 1.8-inch hard disk drive (HDD) to date, its 320GB dual platter MK3233GSG. The announcement firmly establishesToshiba's position as the world leader in high performance, small form factor hard disk drive (HDD) technology (1).
The 5400rpm MK3233GSG with SATA-interface offers OEMs a host of advanced features, all of which contribute to a superior mobile PC performance when compared to devices embedded with 2.5-inch HDDs. Its improved energy consumption efficiency compared to previous 1.8-inch models, and enhanced performance with a 16MB buffer and high disk transfer rate of 830Mbits/s, makes the MK3233GSG an ideal device for use in the latest generation of high-end portable and extremely mobile personal computers, notebooks and external hard disk drives.
The drive's superior shock and vibration specifications further empower today's mobile user to efficiently download and use memory intensive multimedia content while on the move. Capable of withstanding the demands of mobility, the drives tolerate up to 1,500Gs of non-operational shock and 500Gs of operational shock making the 1.8-inch form factor 50 and 25 per cent more durable than the most robust 2.5-inch HDDs. According to preliminary results (2) from analyst firm Gartner global PC shipments returned to growth in the third quarter of 2009. This growth was driven largely by consumer demand for low priced and ultra mobile PCs which support high volumes of new media content. Weighing just 62 grams and with unrivalled storage capacity enabling the user to store up to 160,000 MP3 files (3), 282 hours of DVD-quality video, the MK3233GSG is the ideal choice for competitive OEMs. The environmental impact of the MK3233GSG has been reduced by the elimination or reduction of certain toxic and hazardous chemicals such as halogen in its manufacture and is RoHS compliant. In addition, the latest range of 1.8-inch HDDs offers the lowest power consumption of any HDD solution, using over 42% less power during seek operation than the best-in-class 5,400rpm 2.5-inch HDDs at the same time. Martin Larsson, Vice President, Toshiba Europe, Storage Device Division, said:
"The recent growth in mobile computer sales even in these trying times is testament to what the consumer really wants; maximum storage in a small and portable device. To support this demand, Toshiba is continuing to innovate storage technology so that the latest generations of hard disk drives, such as the MK3233GSG, are light and fast enough for even the most up to date notebooks. Furthermore, the 1.8-inch form factor is a valued component in handheld and mobile consumer electronics due to its physical size, cost-effectiveness and ability to reliably and quietly store large capacities of personal user content. HDDs such as the MK3233GSG are a highlight to our broad storage product portfolio."
The latest range of 1.8-inch drives launched today includes the dual platter 250GB MK2533GSG and the single platter 160GB MK1633GSG.
Toshiba also today announced the immediate availability of 120GB 1.8-inch MK1235GSL HDD. This drive operates at 4,200rpm and boasts ultra-low power consumption making it suitable for devices requiring a cost-effective but high-quality solution with long battery life such as mini-notebooks, netbooks and other converged storage application products.
------
(1) According to IDC, Toshiba shipped over 80% of 1.8-inch HDDs worldwide in Q3/09, retaining its No. 1 market share position since entering this form factor in 2000.
(2) http://www.computing.co.uk/computing/news/2251303/global-pc-shipments-return
(3) Examples of the number of photos, songs, movies, and any other files that can be stored on a hard drive are provided for illustrative purposes only. Your results will vary based on file size and format, settings, features, operating system, software and other factors.
Learn more about Toshiba products