BUY ONLINE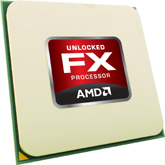 More Performance, Better Heat sink, Same Price
Up to 9% more performance compared to FX-4100
Extra 200MHz based frequency compared to FX-4100
To prove it to customers, AMD run FX 4130 outreach whereby AMD aimed to compare the FX-4130 to FX-4100. The results you can read below in key messages around better overclocking, better cooler and better performance.

Please find below an AMD FX 4130 quotes and awards report.
BULGARIA
HardwareBG.com
AMD FX-4130 reviewed
English translation:
"A noticeable difference in the new FX-4130 is the amount of cash from the third level, like his brother FX-4300, only 4 MB of shared cache is in the third level (the old FX-4130 are available at 8 MB in third level)."
Original quote:
"Една по-видима разлика е обемът на кеш от трето ниво – при новият FX-4130 подобно на неговият събрат FX-4300 е налице само 4 MB споделен кеш от трето ниво (при стария FX-4130 са налични 8 MB L3)."
ITALY
InsideHardware.it
AMD FX-4130: Bulldozer still has fuel
English translation:
"Cutting its L3 cache by half gave 'wings' to the overclocking capabilities of this CPU. Its overclocking capabilities make it definitely able to be compared with much more expensive solutions. In summary, we are fully satisfied with this product, which costs around 110 euros, and proves to have a higher performance level than the model it replaces, maintaining the price."
Original quote:
"La cache L3 dimezzata ha 'messo le ali' alle capacità di overclock della CPU... Le potenzialità di overclock sono tali da rendere assolutamente competitiva questa soluzione con soluzioni decisamente più costose... Tirando le somme, possiamo ritenerci assolutamente soddisfatti da questo prodotto, che in un costo di circa 110€, si dimostra più prestazionale del modello che sostituisce mantenendone il prezzo finale."
Award: Silver award



POLAND
In4.pl
AMD FX 4130 - Four cores refreshed
English translation:
"The decision of what to choose will of course be yours, but we appreciate the fact that AMD now gives you a little more performance, four cores receiving a little less power in IDLE state and all this at a really great price."
Original quote:
"Decyzja co wybrać, należeć będzie oczywiście do Was, a ja ze swojej strony docenię fakt, że AMD daje nam teraz trochę więcej wydajności, cztery rdzenie pobierające trochę mniej prądu w stanie IDLE i w dodatku w doskonałej cenie."
Award: IN4 Best Buy award

Benchmark.pl
AMD FX 4130 - refreshed quad-core for about 400 PLN
English translation:
"For about 400 PLN we get a little bit faster CPU then his predecessor, but with a little bit higher STRESS power consumption. As an advantage, we can count lower IDLE power consumption, better cooler and unlocked multiplier, which helps get impressive OC results."
Original quote:
"Za cenę około 400 zł otrzymujemy procesor nieco wydajniejszy od swojego poprzednika, ale też pobierający więcej energii przy obciążeniu. (…) Na plus można zaliczyć również niższy pobór energii w stanie spoczynku, jak i dołączony wydajniejszy radiator oraz odblokowany mnożnik, który pozwala na całkiem przyzwoite podkręcenie."
twojepc.pl
AMD refreshes an offer, model FX-4100 replaced by the FX-4130
English translation:
"TDP increased to 125W, but according to AMD, thanks to numerous improvements, the FX-4130 model at rest consumes less energy than the FX-4100, which it replaces."
Original quote:
"Współczynnik TDP wzrósł do 125W, ale zdaniem AMD, dzięki licznym usprawnieniom model FX-4130 w spoczynku pobiera mniej energii niż FX-4100, którego zastępuje."
pclab.pl
AMD lowers the price of the FX-4130 and throws away FX-4100 model
English translation:
"The FX-4130 has advantage over its predecessor by slightly higher clocks, but it's provided with two times less L3 cache and it also has a higher TDP - 125 W instead of 95 W. The last thing is not necessarily a disadvantage, because the higher TDP of the processor is standard with a better set of cooling. In addition, AMD ensures that in the final analysis, the FX-4130 should draw the same amount of power as its predecessor, although it needs more power under load, makes up with a slightly lower IDLE consumption."
Original quote:
"FX-4130 ma nad poprzednikiem przewagę w postaci nieco wyższych zegarów, jest za to wyposażony w dwa razy mniej pamięci podręcznej trzeciego poziomu, ma także wyższe TDP – 125 W zamiast 95 W. Ostatnia rzecz niekoniecznie musi być wadą, bo przez wyższe TDP procesor jest standardowo wyposażony w lepszy zestaw chłodzenia. W dodatku AMD zapewnia, że w ostatecznym rozrachunku FX-4130 powinien pobierać tyle samo prądu co poprzednik, bo chociaż potrzebuje więcej energii pod obciążeniem, nadrabia nieco niższym zużyciem w czasie spoczynku."
PurePC.pl
AMD FX-4130 on sale, which is the successor to the FX-4100
English translation:
"Compared to the FX-4100, it provides two times less L3 cache, it also have a higher TDP, but the manufacturer says that the system almost qualify for the 95W limit. Overall performance increases from 3 to 9%, while the price of the FX-4130 will be $ 99.99 USD."
Original quote:
"W stosunku do FX-4100 jest wyposażony w dwa razy mniej pamięci podręcznej trzeciego poziomu, ma także wyższe TDP, jednak producent podaje, że układ prawie kwalifikował się do granicy 95W. Ogólna wydajność wzrośnie od 3 do 9%, natomiast cena FX-4130 wyniesie 99,99 dolarów."
ROMANIA
Softpedia.com
Quad-Core FX-4130 Vishera CPU Launched by AMD
Original quote:
"All in all, compared with the FX-4100 that it replaces, the FX-4130 is 3% to 9% faster and, by virtue of Piledriver's higher flexibility, can be overclocked better."
Gadget-Talk.ro
Quad-Core FX-4130 Vishera CPU Launched by AMD
English translation:
"AMD offers a more durable cooler with this new processor."
Original quote:
"Totodata AMD ofera un cooler mai solid odata cu acest nou procesor FX-4130."