Adaptec, Inc., a global leader in storage solutions, today announced that its Snap Server 720i SATA-based iSCSI storage appliance has won the "Best Entry-Level SAN" category as part of the InfoWorld 2008 Technology of the Year Awards. InfoWorld, the leading integrated media brand for IT decision makers, recognized 45 products across nine general categories in its 2008 Technology of the Year honors.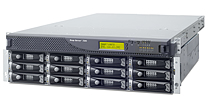 InfoWorld's 2008 Technology of the Year award winners represent the cream of the 2007 storage crop. Chosen by InfoWorld Test Center editors and reviewers, they include the best file system, best SAN solution, best iSCSI SAN, best entry-level SAN, best unified storage solution, best backup solution for SMBs, and best portable drive with encryption.
According to the InfoWorld reviewer, "The Adaptec Snap Server 720i combines great scalability, reassuring high-availability features, and excellent management tools, all at a very affordable price and with a three-year warranty on hardware. Few arrays in its class can even come close to that."
Don Chouinard, director of product management and marketing for the Storage Solutions Group at Adaptec, said: "The Snap Server 720i has been designed to provide cost-effective, high performance, highly reliable RAID storage for mission critical application servers or backup servers. Winning this award category confirms the status of the Snap Server 720i as the best overall SAN available for mid-size companies."
"InfoWorld tests upwards of 200 IT products every year, and we see many, many good ones," said Doug Dineley, InfoWorld's Test Center Executive Editor. "Our Technology of the Year award winners represent the best products in the most important product categories."
Order Adaptec products on ASBIS' B2B Online Marketplace