Applied Micro Circuits Corporation (AMCC), the recognized channel leader in serial RAID storage, announced that it will begin shipping the 3ware(R) 9690SA-4I Serial Attached SCSI (SAS) RAID controller on April 14. The 9690SA-4I will provide customers a value-oriented SAS/SATA configuration option with four internal ports.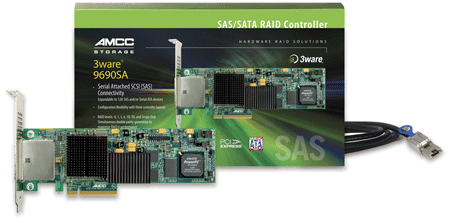 "SAS is the interface for the direct-attach server space, SCSI's former mainstay," said Scott Cleland, Worldwide Director of Marketing for AMCC Storage. "The 3ware 9690SA-4I will give IT managers a new cost-sensitive SAS/SATA RAID solution for mission critical applications that require higher levels of availability and native expansion."
The 3ware 9690SA controller line will continue to feature low profile controller layouts: one with eight internal ports, another with eight external ports, a third with four internal and four external ports and now a fourth with four internal ports. The 3ware 9690SA-4I will be tailored for value-end 1U, 4-bay servers, departmental servers and professional workstations that typically employ four, direct-connect internal drives. Expandability to 128 SAS/SATA devices with all 9690SA controllers is achieved with standard SAS expanders.
Product Pricing and Availability
3ware 9690SA-4I controller kits will be available through AMCC's worldwide network of distributors, integrators and VARs. Suggested list price for the 3ware 9690SA-4I is $395; MSRP is $795 for the 9690SA-8I, 9690SA-8E and 9690SA-4I4E model numbers.
About AMCC
AMCC blends system hardware and software expertise to provide the essential building blocks for the processing, moving and storing of data worldwide. AMCC's 3ware SAS and SATA RAID controllers deliver cost-effective, high-performance, high-capacity storage for enterprises and consumers worldwide in applications like disk-to-disk backup, near-line storage, network-attached storage (NAS), video, and high-performance computing. The company is headquartered in Sunnyvale, California and has offices throughout the world. Visit www.3ware.com or www.amcc.com for more information.