AMD A-Series Accelerated Processing Units are all about delivering superior bang for the buck across an essential spectrum of video, entertainment and accelerated consumer application experiences. This time we will take a closer look at the APU in context of the PC Gaming.

AMD A8-3870K: Unlocked to go Even Further
Poised to be one of the most customizable products ever, the totally unlocked AMD A8-3870K Black Edition offers overclockers the ability to tweak both CPU and/or GPU for a serious uplift in gaming and system performance.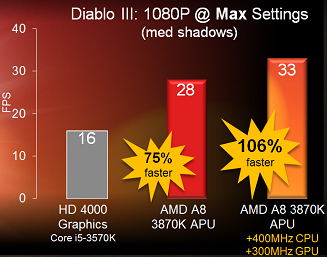 No platform gives you more fun for your money than an A-Series APU with AMD Radeon™ Graphics.
Generation over generation, AMD has demonstrated a history of graphics leadership that can't be beat—at price points only AMD delivers. AMD A-Series APUs are setting a new bar for the entertainment experiences today's users want most.