BUY ONLINE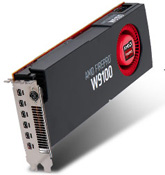 pre-order is required
AMD (NYSE: AMD) launched the AMD FirePro™ W9100 professional graphics card designed for the next generation of 4K workstations accelerated by OpenCL™ (Open Computing Language). With cutting-edge graphics, up to 2.62 TFLOPS double precision of industry leading GPU compute power (1) and ultra-high resolution (4K) multi-display capabilities, video, design and engineering professionals can work at a whole new level of detail, speed, responsiveness and creativity.

With an industry first 16GB of ultra-fast GDDR5 memory, workstation users can multi-task efficiently across up to six 4K displays (2), load massive assemblies and data sets to manipulate them, or edit, color-correct and layer in multiple effects to 4K video projects, all in real-time. Powered by AMD's latest Graphics Core Next architecture, AMD FirePro W9100 gives creative professionals supercomputing-class performance from a single GPU.

"Now is the time when 4K displays are more readily available and accessible," said Matt Skynner, corporate vice president and general manager of AMD Graphics. "We're seeing even more applications demand increased memory support while pushing the limits of real-time 4K video production and rendering. AMD has delivered a product at the right time to meet these needs -- the new AMD FirePro W9100 professional graphics card -- designed for the most demanding workflows in next-generation workstations. As AMD's flagship professional graphics card, the AMD FirePro W9100 delivers cutting-edge graphics performance, industry-leading compute power from a single GPU and is equipped with an industry-first 16GB GDDR5 of ultra-fast on-board memory – the largest frame buffer graphics card ever built. With such visual supercomputing performance, professionals can work on the most complex engineering and creative projects in ultra-high resolutions, helping them to keep track of even the smallest details."

"Our customers will quickly see the potential that AMD FirePro W9100 brings to the table – an impressively powerful card to take on the largest most complex engineering and creative projects," said Jeff Wood, vice president, Worldwide Product Management, Commercial Solutions Business Unit, HP. "We are pleased that AMD has validated the FirePro W9100 in accordance to HP's Tested and Certified partner program for the HP Z820 and HP Z620 Workstations and has made the solution available for customer or channel integration."

"Adobe® Premiere® Pro CC, included in Adobe Creative Cloud™, is blazing on the new AMD FirePro W9100. We've had it in the lab and we're seeing some pretty astonishing results," said Al Mooney, Senior Product Manager, Professional Video Solutions, Adobe. "Adobe and AMD have worked closely for a long time making sure our customers are empowered to be creative with fast and efficient workflows. Combining our apps with AMD's solution allows our customers to focus on doing what they love."

"AMD FirePro W9100 with OpenCL support for DaVinci Resolve is incredibly important for our customers to be able to process images and effects as quickly as possible," said Dan May, president, Blackmagic Design. "AMD FirePro W9100 is a terrific card with 16GB of GPU muscle to support a wide variety of grades, blurs and effects when working with Ultra HD. We're excited by the results that AMD FirePro W9100 and OpenCL provide for DaVinci Resolve customers to be creatively artistic without limitations."

"At Taylor James, we get to work on some very heavy scenes that constantly test our hardware platforms," said David Wortley, Technical Director, Taylor James. "In our lab tests, we took some of our heaviest data which previously required disabling textures and lighting to give a usable performance. With the AMD FirePro W9100 included in our test workflow, we were able to have all our data loaded with real-time shadows and realistic materials in the viewport in 3ds Max. That was never possible before. Additionally, OpenCL with VRay RT offered efficient performance so we were able to obtain near-instant results when composing shots involving heavy CAD data."

"Dell and AMD believe in enabling professionals with the performance and power required to achieve their mission-critical projects backed by the collaboration of Dell Precision workstations with AMD FirePro professional graphics," said Andy Rhodes, executive director, Dell Precision workstations. "We've seen an increase in ultra high-resolution workflows and new applications based on OpenCL so we are looking to offer the AMD FirePro W9100, which is designed to deliver the ultimate 4K experience for next generation workstations, later this year. By combining Dell Precision workstations with AMD FirePro W9100 graphics and Dell UltraSharp 4K displays, creative and engineering professionals will have the tools to work with 4K multi-display workflows and achieve the results they desire."

"EnSight users demand powerful graphics support to manage the complexity of large-scaled models required in every day finite element analysis, computational fluid dynamics and medical MRI visualizations," said Darin McKinnis, Vice President, Sales and Marketing, CEI. "CEI is pleased to continue the successful collaboration with AMD – the AMD FirePro W9100 not only responds to our validation testing, but it offers exception benefit for massive displays for our users."

To address the increased requirements for real-time 4K productivity, the AMD FirePro Ultra Workstation was created with input from industry leaders to bring to market single- and multi-GPU configurations based on the new AMD FirePro W9100 that can match the demand of compute-intensive applications. Supporting Workstation System Integrators include: Armari Ltd., BOXX Technologies, Colfax, LumaForge, Mouse Computer, PSSC Labs, Scan Computers Ltd., SilverDraft, Supermicro, TAROX, Versatile Distribution Services, Workstation Specialists and Wortmann AG.
The AMD FirePro W9100 graphics features and benefits include
2.62 TFLOPS of peak double-precision GPU compute performance - AMD FirePro W9100 graphics cards feature ½ rate double precision1, enabling more than 2TFLOPS of peak double precision performance on a graphics processor for the first time. Unlike competing cards that are not optimized for double precision, AMD FirePro W9100 workstation graphics cards offer the most double precision performance, completing compute-intensive tasks faster than ever believed possible (3).
5.24 TFLOPS of peak single-precision GPU compute performance - Helps speed up time required to complete single precision operations used within Simulations, Post Production and Effects, Signal Processing, Video Transcoding and Digital Rendering applications where high performance takes precedence over accuracy.
16GB GDDR5 Memory - Allows users to work at a whole new level of speed and responsiveness with a 512-bit memory interface and 320 GB/s of memory bandwidth to edit 4K video, layer in multiple effects and color correct on the fly, or load massive assemblies and data sets and manipulate them in real time.
Multi-GPU Support - Combine up to four AMD FirePro W9100 workstation graphics cards in a single desktop system and leverage the combined processing power to work with multiple 4K video streams in real-time, layer in effects, make color corrections and edits on the fly.
4K Resolution - With six Mini DisplayPort 1.2 outputs, the AMD FirePro W9100 can drive up to six 4K displays (2).
OpenCL™ 2.0 Support (4) - Professionals can tap into the parallel computing power of modern GPUs and multicore CPUs to accelerate compute-intensive tasks in leading CAD/CAM/CAE and Media & Entertainment applications that support OpenCL. The AMD FirePro W9100 graphic card is designed for OpenCL 2.0, allowing developers to take advantage of new features that give GPUs more freedom to do the work they are designed to do.
The AMD FirePro Ultra Workstation features
Multi-GPU support based on the new AMD FirePro W9100
Ready for OpenCL 2.0 applications
Multi-display support for 4K and beyond

AMD FirePro™ W9100 graphics supports ½ rate double precision; 5.24 TFLOPS single precision divided by two is 2.62 TFLOPS double. The Quadro K6000 supports 1/3 rate double precision, Nvidia's highest rate as of April 2014; 5.19 TFLOPS single precision divided by three is 1.73 TFLOPS double. Visit http://www.nvidia.com/content/PDF/line_card/6660-nv-prographicssolutions-linecard-july13-final-lr.pdf for Nvidia product specs. FP-88
Requires 4K displays and content; performance dependent on file size. AMD Eyefinity technology supports up to six DisplayPort™ monitors on an enabled graphics card. Supported display quantity, type and resolution vary by model and board design; confirm specifications with manufacturer before purchase. To enable more than two displays, or multiple displays from a single output, additional hardware such as DisplayPort-ready monitors or DisplayPort 1.2 MST-enabled hubs may be required. A maximum of two active adapters is recommended for consumer systems. See www.amd.com/eyefinityfaq for full details.
AMD FirePro™ W9100 delivers 2.62 TFLOPS peak double precision floating point performance, and Nvidia's highest performing card in the market as of April 2014 is the Quadro K6000 with 1.72 TFLOPS peak double precision. Visit http://www.nvidia.com/content/PDF/line_card/6660-nv-prographicssolutions-linecard-july13-final-lr.pdf for Nvidia product specs. FP-87, FP-89
AMD plans to release OpenCL 2.0 drivers for AMD FirePro graphics cards in Q4 2014; conformance testing is planned at that time.