BUY ONLINE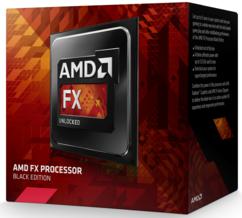 Earlier this year AMD launched new thermal solutions, including the flagship AMD Wraith Cooler. The AMD Wraith Cooler combines near silent performance with a sleek, illuminated style for those who believe that your PC should not only run smoothly and silently, but look good doing it.
Key Quotes
Adriatics
Bozzabench.com, Serbia
"Bundling FX-8350 and FX-6350 with Wraith cooler, AMD is now offering twelve most popular models in combination with some of the best "BOX" coolers out there on the market. AMD is ideally positioned in its agenda to offer maximum performance and the support for the latest technology standards to its users, empowering them with the supreme enjoyment in the latest generation of 3D games and OSs."
pcaxe.com, Serbia
"HTC recommends AMD FX-8350 as "VR Ready" processor for their Vive VR. Tests conducted in SteamVR benchmark confirmed that even FX-6350 provides great results when combined with Radeon R9 390 or Fury GPUs."
itsvet.com Serbia
"AMD has started bundling supreme Wraith cooler with FX-8350 and FX-6350 models. Both of them have unlocked multiplier a feature tha you will not find in competitor's lineup. This feature will enable AMD users to experience superb performance via AMD OverDrive software."
Benchmark.rs Serbia
"With up to eight CPU cores, AMD desktop processors are DirectX 12 ready since new graphics API is designed from ground up as multicore optimized. That results in enhanced performance of AMD FX lineup especially in games such as Ashes of the Singularity and Hitman."
Czech Republic
PCTuning.cz, Czech Republic
"For your money you will receive a cooler that is as quiet as some more expensive non-referential ones and much more powerful than its predecessor."
ExtraHardware.cz, Czech Republic
"An offer of good and very quiet boxed cooler makes the best sense for systems with limited budget, so probably the most interesting bundle will be AMD FX-6350."
Diit.cz, Czech Republic
"It's not a coincidence that three 125W CPUs with Wraith – FX-6350, FX-8350 and FX-8370 are recommended for virtual reality sets as AMD is trying to present attractive offer before Zen arrives."
Poland
KomputerSwiat.pl, Poland
"Wraith Cooler is a new AMD cooler that works very quiet (just 39 dbA) and features 24% more fin area and increased airflow up to 34%. This new cooler is just quiter and more efficient."
PurePC.pl, Poland
"... thanks to adding Wrait Cooler AMD units become more attractive. And it's not just the matter of the PC noise, but this translates as well into theoretical higher OC capabilities - lower temperature should make this easier."
Romania
Go4IT, Romania
"AMD does not speak about the next generation of processors, the new Zen architecture, but wants to offer the best possible performance for those who choose the company's existing products. Two of the models available in the market for some time get a new boxed cooler, more efficient and quieter, which could eliminate the need of reaching an aftermarket cooling system."
WASD.ro, Romania
"FX 8350 vs 6350 can be purchased together with the new box cooler that promises complete silence.."
Russia
IXBT.com, Russia
"In addition to the FX-8370 and A10-7890K, AMD is now including its Wraith cooler with its FX-8350 and FX-6350 CPUs. Noteworthy that this upgrade had no effect on the total cost"
3dnews.ru, Russia
"AMD bundling its Wraith stock CPU cooling solution with FX-8350 and FX-6350. This cooler provides effective heat dissipation with a low noise level."
Turkey
CNN Turk, Turkey
"New Wraith Cooler maximize the performance of the processor, allows as much less noise and energy consumption. AMD FX-8350 (180 dollars) and FX-6350 (130 dollars) stands out with this new cooler, people won't be condemned with poor cooling. Especially for the game lovers we strongly recommend AMD processors with Wraith Cooler with that this new cooler has a great potential for overclocking."
Chip, Turkey
"AMD has set an important milestone replacing the stock cooling solution with near-silent thermal solutions in February. Now AMD offers the best stock cooling package with the addition of FX 8350 and FX 6350 into that list."