BUY ONLINE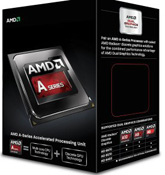 AMD (NYSE: AMD) introduced the new AMD A10-7800 Accelerated Processing Unit (APU) to the component channel. This 4th generation A-Series APU with 12 Compute Cores (4CPU + 8 GPU) unlocks the APU potential with Heterogeneous System Architecture (HSA) features, and boasts powerful AMD Radeon™ R7 Series graphics for outstanding performance across applications. 1,2 Combined with AMD's acclaimed Mantle API, the AMD A10-7800 APU can enable accelerated performance across select AMD Gaming Evolved partner titles.3
Revolutionary Architecture
Up to 12 Compute Cores (4 CPU + 8 GPU) deliver amazing performance and responsiveness, that leverages the capability of the APU on various workloads, applications and top gaming titles
The breakthrough new Heterogeneous System Architecture (HSA) allows the CPU and GPU to work together in harmony by quickly dividing and directing tasks to the appropriate cores for new levels of performance and efficiency for desktop and notebook PCs, enabling a new era of compute capabilities with compute cores
Award-winning Graphics Core Next Architecture with AMD Radeon™ R7 series graphics and compute capability makes it a top choice for gamers who expect the best
Support for UltraHD (4K) resolutions and new video post-processing enhancements that make 1080p videos look amazing when upscaled on an UltraHD-enabled monitor or TV
The AMD A-Series APUs bring a superior level of gaming and compute experiences to the desktop PC," said Bernd Lienhard, corporate vice president and general manager, Client Business Unit, AMD. "With support for AMD's acclaimed Mantle API that simplifies game optimizations for programmers and developers to unlock unprecedented levels of gaming performance transforming the world of game development to help bring better, faster games to the PC."
Equipped with AMD Quick Stream, AMD Steady Video and AMD TrueAudio technologies, the AMD A-Series APUs combine to deliver lifelike audio and video4. Utilizing a configurable thermal design power option (cTDP), enthusiasts are now able to fine-tune for efficiency. In addition, AMD also announced the introduction of the AMD A8-7600 and AMD A6-7400K APUs, ideal for consumers looking to upgrade their application and work experience on the PC. With the unifying FM2+ infrastructure for AMD APUs, users are enabled to build smaller form factors for gaming and home theatre PC (HTPC) systems.
COMPUTE CORES
12
(4 CPU + 8 GPU)
10
(4 CPU + 6 GPU)
6
(2 CPU + 4 GPU)
MAX TURBO/
CPU FREQUENCY
3.9/3.5 GHz
3.8/3.1 GHz
3.9/3.5 GHz
HSA FEATURES
Yes
Yes
Yes
AMD TRUEAUDIO
TECHNOLOGY
Yes
Yes
Yes
MANTLE SUPPORT
Yes
Yes
Yes
AMD CONFIGURABLE TDP
Optimized (45W)
Optimized (45W)
Optimized (45W)
In addition with AMD Radeon™ memory, users can benefit from AMD AMP technology to help boost their gaming experience with the AMD Radeon™ R9 2400 Gamer Series memory which has been tested and certified for AMD A10 APUs5,6.The AMD A-Series APUs are now available worldwide from select e-tailers, retailers and system integrators.
1. For more information visit amd.com/computecores
2. Available only on HSA enabled applications
3. Application support for Mantle is required.
4. AMD TrueAudio™ technology is offered on select AMD Radeon™ R9 and R7 200 Series GPUs and is designed to improve acoustic realism. Requires an enabled game or application. Not all audio equipment supports all audio effects; additional audio equipment may be required for some audio effects. Not all products feature all technologies—check with your component or system manufacturer for specific capabilities.
5. Dataram Corporation and other corporations makes, sells, supports and warrants AMD Radeon-branded memory. Check with your memory and system vendors to ensure AMD Memory is compatible with your system. The AMD and AMD Radeon logos and trademarks are used by Dataram and other corporations under license.
6. Memory profiles are designed to boost system performance with pre-set memory profiles. AMP profiles are only available on supported AMD platforms and XMP profiles are only available on supported Intel platforms. The motherboard and the DDR3 memory module must be AMP or XMP-enabled in order to download preset profiles. Check with motherboard manufacturer and system memory manufacturer to see if AMP or XMP are enabled.