BUY ONLINE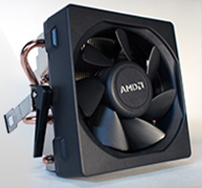 Giddy up, gamers! It just got easier and more affordable to build a high-performance system for online and eSports gaming that runs cool and near-silent. Today, AMD launched new thermal solutions, including the flagship AMD Wraith Cooler, as well as the new AMD A10-7860K and AMD Athlon™ X4 845 desktop processors.
New thermal solutions
AMD has heard your concerns about stock coolers, and we're stepping up the game for select processors. Near silent? No problem. AMD now offers two new thermal solutions that make one-tenth the noise of past coolers, running at a near silent 39 decibels.i,ii
The AMD Wraith Cooler combines near silent performance with a sleek, illuminated style for those who believe that your PC should not only run smoothly and silently, but look good doing it. Wraith is shipping now with the AMD FX™ 8370 CPU.
In addition to the Wraith Cooler, AMD is introducing the new Near-Silent AMD 95W Thermal Solution that also offers the same virtually silent performance without the extra bling as the Wraith. These stock coolers are included with select AMD desktop processors, including the new AMD A10-7860K and new AMD Athlon™ X4 845, as well as the AMD A8-7670K, A8-7650K and the Athlon™ X4 870K and 860K.
Included with

FX 8370 CPU

NEW AMD A10-7860K
AMD A8-7670K
AMD A8-7650K
AMD Athlon™ X4 870K
AMD Athlon™ X4 860K
AMD Athlon™ X4 845

Near Silent Operation

Yes

Yes

Fan Shroud with LED Logo

Yes

-
New AMD A10-7860K
With a quad-core processor at 4 GHz max turbo, full FreeSync™ support, and integrated Radeon™ R7 graphics, the A10-7860K gives you superb visual performance to crush your competition in popular online games like Dota 2™, League of Legends® and CS®:Go.
Plus, with a 65W TDP (Thermal Design Power) the A10-7860K fits well into tiny console-sized form factors and with our new, near silent thermal solution it fits perfectly into your "cozy" dorm room, living room or home theatre.
AMD Athlon™ X4 845 Desktop Processor
The AMD Athlon™ X4 845 processor brings the high-efficiency performance of four "Excavator" cores to the desktop. With a 3.8 GHz max turbo clock, it's the ideal foundation for your eSports and mainstream gaming system.
Also equipped with AMD's brand new 95W thermal solution, the Athlon™ X4 845 will keep your system running cool and quiet all day long.
These new processors are now available.
i Subject to use according to product specifications. The AMD Wraith cooler has a maximum noise level of 39dbA. The AMD D3 cooler, which the Wraith Cooler has replaced on certain CPUs, has a maximum noise level of 51 dbA. In the logarithmic dbA scale, a ten decibel difference is equal to ten times the amount of noise, so the AMD Wraith Cooler generates less than one tenth the noise of its predecessor. WTH-1
ii The AMD 95W Thermal Solution has a maximum noise level of 36dbA. The AMD D2 cooler, which the AMD 95W Thermal Solution has replaced on certain CPUs, has a maximum noise level of 52 dbA.In the logarithmic dbA scale, a ten decibel difference is equal to ten times the amount of noise, so the AMD 95W Thermal Solution generates less than one tenth the noise of its predecessor. WTH-4