BUY ONLINE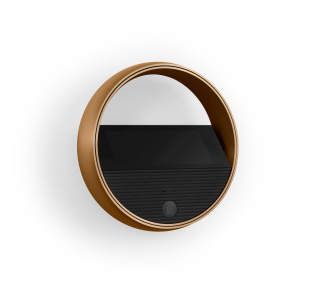 Beoremote Halo
the new Bang & Olufsen remote control that plays your favourite music, podcasts, and internet radio stations with a single touch1.
A welcome addition to Bang & Olufsen's portfolio of high-end loudspeakers, Beoremote Halo is at once a highly functional remote control and a sculptural object in its own right. A crafted aluminium ring, which appears to float in mid-air, encircles a discrete console; it can be mounted on the wall like a piece of art or stand on its own, allowing users to move the product freely throughout the home. When approaching Beoremote Halo, the display screen illuminates, allowing the user to choose their favourite music or radio. Controlling the volume offers a luxurious tactile experience, where the solid aluminium ring provides subtle haptic feedback as the volume is raised or lowered.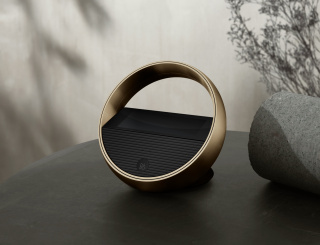 Seamless access to music
Beoremote Halo comes with four favourites buttons, allowing users to access their favourite music with a simple tap of the finger. This one-touch approach to music has been core to Bang & Olufsen's DNA for more than 80 years. The favourites buttons also allow users to switch seamlessly between TuneIn, Spotify, or Deezer. The display clearly identifies the content being played and also shows a list of connected devices, allowing users to control their multiroom experience. To turn off all the music in the home, users simply press and hold the standby button.
"It should be just as easy to access the music in your home as switching on the lights. So we wanted to give our customers the convenience of a physical device, so they can easily start the music in their home without using their smartphones", says Bang & Olufsen SVP of Product Management Christoffer Poulsen.
Availability
Beoremote Halo will be available at ASBIS countries from September 24. For more information please contact your ASBIS manager.
ABOUT BANG & OLUFSEN
Bang & Olufsen is a luxury audio brand founded in 1925 in Struer, Denmark, by Peter Bang and Svend Olufsen whose devotion andvision remain the foundation for the company. For nearly a century, Bang & Olufsen has been pushing the boundaries of audiotechnology and the company continues to sit at the forefront of acoustic innovation. Today, every Bang & Olufsen product is stillcharacterized by the unique combination of beautiful sound, timeless design, and unrivalled craftsmanship. The company's innovativeand progressive products are sold worldwide in Bang & Olufsen stores, on bang-olufsen.com and in select retailers. The companyemploys approximately 700 people and operates in more than 70 markets. Bang & Olufsen's shares are listed on NASDAQ CopenhagenA/S.
1Enabled by Beosound Core: a small streaming hub that can be purchased separately.