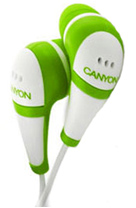 The popular CANYON's white and orange earbuds, the CNR-EP3 will be available in a wider range of color schemes. From January 2009, the choice of pink, blue and green will also be offered to suit your individual style.
These earbuds style headphones combine fresh, attractive design and practicality. They offer great sound quality, and the silicone fittings ensure a soft, comfortable fit. To avoid a clutter of wires when carrying it around, each headphone comes with a color assorted pocket bag for your convenience.
And like all other CANYON products, these new colorful earbuds headphones are available at a highly competitive price. (Recommended retail price (USD): $12.99)
Choose your color!

CNR-EP5 - Blue CNR-EP6 - Green CNR-EP3 - Orange CNR-EP4 - Pink
Buy other CANYON products at ASBIS B2B e-Shop

About CANYON
CANYON is a cheerful, young and dynamic lifestyle brand that thrives to make life more comfortable by offering a wide range of practical, easy-to-use and affordable IT-related consumer electronics and computer peripherals to the many people. Our product range is developed with our commitment to offer beautiful and stylish product design at competitive prices, without compromising the quality. Founded in 2003, CANYON is one of the world's fastest growing brands in its industry in Asia and the EMEA region.