Amsterdam (The Netherlands), March 15, 2007 -- Canyon, one of the world's fastest growing brands on consumer electronics and IT peripherals market, has launched two new internet telephony products – a wired and a wireless VoIP handset, fully compatible with Skype, MSN and Yahoo VoIP software. The new trendy consumer products will be available at Canyon partners' stores across Europe, Middle East and Africa after March 20, 2007.
Canyon's new CNP-VT1 handset is a wired VoIP phone that is connected to a PC via USB cable. This new sleek handset is intended to help users make IP calls with plug-and-play simplicity in installation. It has a large LCD display, supports PC-to-PC, PC-to-Phone calls, and is fully compatible with Skype, MSN and Yahoo VoIP software.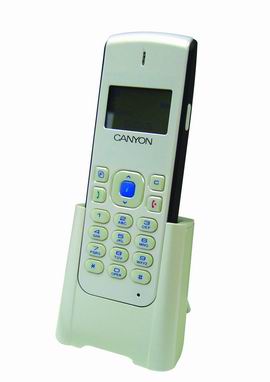 The wireless version of this handset, is designed to offer users the convenience of mobile VoIP. The compact and elegant design of this Bluetooth handset allows users to make VoIP calls while moving around the house or office with amazing voice quality. In short, the CNP-VTW1 gives you all the functionality of a regular phone, through Skype . You'll get the convenience of a cordless phone and all its features plus the high-quality voice reception that you get from Skype on your PC without being tied to your computer.
"We are now observing a worldwide shift from traditional fixed-line telephony to Internet telephony and this means that the demand for devices that enhance this new way of communication is increasing", says Ivo van Houten, Marketing Manager at Canyon. "With VoIP handsets we offer a price friendly alternative to users who want more comfort from their internet telephony. Home and office users who either spend many hours in front of the computer or move around the building can now benefit from handy Canyon VoIP phones in communicating with others without being bothered by headsets or microphones."
Both new Canyon handsets support SkypeOut dialing, as well as Skype contact list. They ring when you have a Skype or SkypeIn call coming in and show the caller's ID on the screen. When you're on a call, you can hit the Speaker out button to use the hands-free function to let everyone join in.
The new products complement Canyon's Platinum Series hi-end product line meeting the needs of the most demanding users. These users require state-of-the-art design and technology. The Platinum Series contains IT related and CE related products that merge design, quality, functionality and user friendliness. The products are recognized by its stylish Retail packing in matt black with shiny orange and silver text.
The products are covered by Canyon's 2-year limited international warranty.
Recommended retail prices in the EU:
CNP-VT1 - Euro 29.99 (including 19% VAT)
CNP-VTW1 - Euro 89.99 (including 19% VAT)
The product is available at ASBIS offices throughout Central and Eastern Europe, Middle East and Africa .
CNP-VT1 features:
- Wired USB VoIP Phone
- Large LCD Display
- Supports PC-to-PC, PC-to-Phone calls
- Compatible with VoIP Software: Skype, MSN, Yahoo
- USB 1.1/2.0
CNP-VTW1 features:
- Wireless Bluetooth V1.2 VoIP Phone
- 2.4 GHz
- Large LCD Display
- Supports PC-to-PC, PC-to-Phone calls
- Compatible with VoIP Software: Skype, MSN, Yahoo
- USB Bluetooth Cradle for charging and signal receiving
- Built in Lithium-Ion battery
- Wireless Range of 25-30 meters

Product photos can be downloaded via these links:
http://www.asbis.com/download/CNP-VT1.jpg
http://www.asbis.com/download/CNP-VTW1.jpg

About Canyon
Canyon is one the world's fastest growing brands within consumer electronics. The company has over 150 products in four product lines: Regular line, Sportsline, Platinum series and Value packs. Canyon Technology was founded in 2000 in Beaverton, Oregon, USA, and has its European head office in Amsterdam. For more information, please visit: www.canyon-tech.com