Canyon, one of the world's fastest growing brands within consumer electronics and IT peripherals, has expanded its product offer of VoIP devices by launching VoIP Station – a mobile speaker phone that is used through the computer's USB connection. With VoIP Station users can communicate handsfree through a number of applications for internet telephony. The speaker phone offers full duplex which means that the sound is not interrupted when both parties speak, with no echo.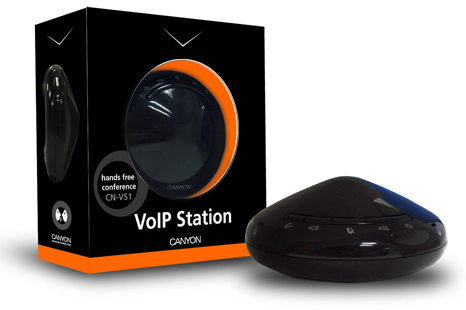 VoIP Station Canyon CN-VS1 has a convenient format and USB-connection which also makes it suitable for the business traveller. No extra power cable is needed and users can also easily connect a webcam to the unit for videoconferencing.
"We see that both companies and individuals abandon traditional telephony for Internet telephony and this means that the demand for peripherals that use this new way of communication is increasing", says Ivo van Houten, Marketing Manager for Canyon. "With VoIP Station we can offer a price friendly alternative to users who want more from their internet telephony."
Canyon's conference phone has an exclusive design with a black finish that fits both the boardroom and the living room. The unit provides a clear sound and has an integrated omni directional microphone for optimal sound quality. Full duplex makes it possible for several parties to talk at the same time with the sound quality maintained and without echo or interference in the communication.
VoIP Station has two audio jacks for headset and microphone which provides further choices for the users. The unit also has an USB port to be used for example for videoconferencing via a webcam. It is easy to use programs such as Skype through the speaker phone's pre-defined buttons for answering and hanging-up.
VoIP Station is powered through the USB connection and requires no extra power cord, making it perfect for the mobile user.
Aside from teleconferencing VoIP Station offers an alternative to the built-in speakers of the laptop, for playing music. Home users can also benefit from the advantages of a small conference phone at a reasonable price.
"Home users who spend many hours in front of the computer can benefit from VoIP Station in communicating with others without being bothered by headsets or microphones", says Ivo van Houten. "Perhaps you also want to continue to paint your nails or run to the fridge while you continue to talk to your friend."
VoIP Station from Canyon is part of the company's new high-end product line Platinum Series , targeting both home and business users. The new series turns to users who want products with an exclusive design and innovative technology inside. The series combine design, functionality, quality and usability.
The recommended retail price for VoIP Station CN-VS1 in the EU stands at Euro 39.99.
The product is available at ASBIS offices throughout Central and Eastern Europe, Middle East and Africa.
CN-VS1 in ASBIS' central E-Shop
Technical specifications for VoIP Station CN-VS1
- 1.5 W RMS speakers
- Full duplex two-way communication
- Integrated omni-directional microphone
- USB2.0 port
- Answering- and hang-up-button for Skype
- Buttons and indicators for volume and mute
- Two audio jacks for external headset and microphone.
- Frequency 200 ~ 20,000 Hz
- Size 120x120x52 mm
- Weight 152g

About Canyon
Canyon is one the world's fastest growing brands within consumer electronics. The company has over 150 products in four product lines: Regular line, Sportsline, Platinum series and Value packs. Canyon Technology was founded in 2000 in Beaverton, Oregon, USA, and has its European head office in Amsterdam. For more information, please visit: www.canyon-tech.com