BUY ONLINE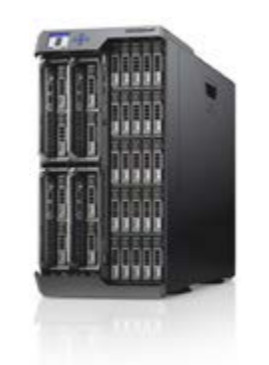 Focused on accelerated performance, enhanced automation and simplified management, the Enterprise portfolio can help you experience worry-free computing through:
Greater IT efficiency
Superior IT agility
Better IT reliability
Dell EMC offers IT infrastructure flexibility with blade, rack and tower server options; simple tape backup and complex consolidation storage options; and networking solutions.
Enterprise products are scalable, flexible, efficient solutions platforms with streamlined and intuitive management that can help you meet changing missions and drive business success.

SERVERS: Powerful, affordable network solutions emphasizing scalability and reliability.
The 13th generation of PowerEdge servers represents Dell EMC most advanced lineup of rack, tower and converged infrastructure platforms and is designed for the widest range of web, enterprise and hyperscale applications.
Dell EMC PowerEdge — comprehensive enterprise systems portfolio that includes:
Intelligent, self-optimized and auto-tiered SAN, NAS and DAS storage solutions
Comprehensive suite of networking products for campus LANs, data centers and wireless networks
Enterprise software for data center and cloud management, data protection, information management, mobile workforce management and security
Professional services that simplify assessment, design, implementation, management and maintenance.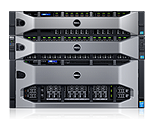 Rack Servers - For businesses with multiple servers or limited storage space:
ASBIS offers complete portfolio of 1-, 2- and 4-socket rack servers designed to reduce complexity in building and managing a data center. PowerEdge rack servers deliver excellent performance and functionality, and outstanding reliability while ensuring superior customer value.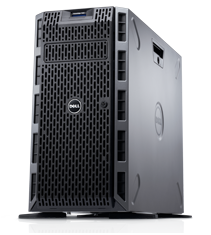 Tower Servers - For businesses that require value, flexibility and a range of performance options:
A portfolio of 1- and 2-socket tower servers that delivers powerful performance, extensive expandability and reliability, helping users to drive business success.
Converged Infrastructure – For high-density computing, meeting specific business demands, controlling costs and streamlining management with flexible processing, storage and networking modules:

PowerEdge FX series: Individually tailored IT platform for enterprise data centers
Offers a revolutionary design for IT platforms that integrates servers, DAS storage, networking and management in a 2U chassis to enable a workload-optimized infrastructure.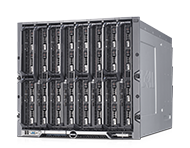 PowerEdge M series: Dense modular IT with central management

Designed for data centers in need of maximum density, efficiency and manageability, the PowerEdge M series integrates servers, storage, networking and management into a single chassis to deliver greater simplicity, efficiency and versatility.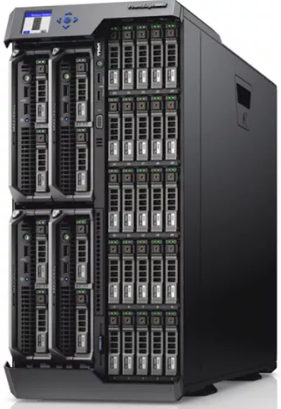 PowerEdge VRTX: Integrated solutions platform for remote and branch offices
A converged IT platform designed from the ground up for office environments, the PowerEdge VRTX integrates servers, storage, networking and management into a single office-optimized chassis to deliver greater simplicity, efficiency and versatility.


NETWORKING: Scalable, high-performance networking solutions connecting end users to their information and applications.
ASBIS offers Dell EMC future-ready networking solutions that helps you:
Improve network performance
Lower networking costs
Remain flexible to adopt new innovations
The range of Dell EMC Networking products includes:
Fixed Port Ethernet Switches - Meeting the demands of today's virtualized networks with resilient, high-density, full-featured switches for large and small businesses:
Basic Ethernet Switches for smaller networks or remote/branch offices with limited IT staff.
Power-Over-Ethernet Switches for access and aggregation for IT managed networks, including N-series and X-series switches:
The N-Series include a wealth of energy-efficient, cost-effective 1 GbE and 10 GbE solutions that offer the functionality, scalability and cross-platform consistency to easily integrate into your existing office, server room, small-scale data center or large campus network.
The X-series include smart managed 1GbE and 10GbE switches that offer enterprise-class features and intuitive, GUI-based management that helps to easily manage your office network.
High-performance Ethernet Switches for Top-of-Rack and data center fabrics, including S-series and Z-series switches:
The S-series include flexible, powerful and optimized 10 GbE switches designed for flexibility and high performance for today's demanding modern workloads and applications.
The Z-series offer outstanding performance and flexibility that helps to optimize performance for today's applications with multi-rate, flexible solutions supporting 10/25/40/50/100GbE throughput.
| | | |
| --- | --- | --- |
| | | Chassis Switches - High-performance, resilient architectures and versatile platforms for next-generation datacenters and enterprise campus networks (C-series) |
| | | High-Performance Computing Switches - Building small to large clusters using low-latency, high-throughput 100Gbps+ technologies, in order to get computing density, reliability, and lower power consumption and costs (H-series) |
| | | Dell Networking E-Series virtualized switches - Drive virtualized data center and cloud computing networks with high capacity chassis-based switches designed for agility and efficiency to lower your TCO |
| | | Advanced Ethernet Switches - Business and data center networks requiring scalable, full functionality Gigabit performance and flexible management capabilities |
| | | Fibre Channel SAN Switches - Optimizing your storage area network (SAN) and maximizing throughput with high-performance Fibre Channel SAN switches |
| | | Server Network Adapters - Optimizing the power and speed of Dell PowerEdge servers across your network with a full array of connectivity options |
| | | Dell SonicWALL Network Security - Dell™ SonicWALL® security solutions enable organizations of all sizes to secure their network, systems, users and data with a deep level of protection that won't compromise network performance |
| | | Wireless Networking - Deploying cost-effective, highly secure and easy-to-manage wireless ecosystems for employees, guests and remote users in indoor and outdoor environments |
STORAGE: A wide range of solutions offering reliable back-up, protection and consolidation:
Compellent SC Series: Multi-protocol enterprise storage
Performance and protection to power business-critical workloads
The SC Series software delivers modern features that fully virtualize your data and fine-tune your storage environment to help you meet aggressive workload demands using the fewest drives necessary.
With Dell Storage SC Series:
Applications run faster, even as data ages and expands
Costs are automatically reduced, at any capacity
Control is simplified and extended

EqualLogic PS Series: Easy to use, virtualized IP storage
Uncomplicated and versatile, designed for growing environments
EqualLogic unified storage is ideal for fast-growing companies and organizations.
PS Series arrays are ideal for business applications and virtualized workloads where capacity, performance, space savings and cost-efficiency are all equally important. With the common management and cross-platform replication capabilities between PS and SC Series arrays, Dell Storage provides future flexibility and long-term investment protection for PS Series customers.

Dell Storage MD and NX Series, and Dell MD3 Series: Value and performance storage
Designed for quick deployment, easy management and efficient storage scalability
Optimized to meet the needs of small business, departmental and branch office operations, the Dell Storage MD and NX Series, and Dell MD3 Series are designed to offer affordability without compromising advanced features and reliability.
The MD3, MD and NX Series provide a range of storage options that include entry-level SAN and NAS appliances, and direct-attached storage (DAS) expansion enclosures.
The MD3 Series brings advanced features to meet the demands of high performance and data protection.
The NX Windows NAS Series offers solutions for companies who have standardized on Microsoft® Windows Storage Server® (WSS) software, or customers who want the flexibility to purchase software and capacity as their storage needs grow.

For additional info please contact ASBIS Enterprise specialist

DELL EMC
Dell EMC, a part of Dell Technologies, enables organizations to modernize, automate and transform their data center using industry-leading converged infrastructure, servers, storage and data protection technologies. This provides a trusted foundation for businesses to transform IT, through the creation of a hybrid cloud, and transform their business through the creation of cloud-native applications and big data solutions. Dell EMC services customers across 180 countries – including 98 percent of the Fortune 500 – with the industry's most comprehensive and innovative portfolio from edge to core to cloud.