BUY ONLINE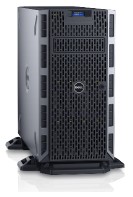 Dell has announced the newest additions to its highly successful Dell PowerEdge 13th generation servers, helping small and midsize businesses (SMBs) prepare for future growth with the introduction of four new entry-level servers that provide greater performance, flexibility and efficiency.
Powerful, efficient and versatile
The new Dell PowerEdge servers include the PowerEdge R330 and R230 rack servers and the PowerEdge T330 and T130 tower servers.
For the first time, Dell's entry-level server T130 features Dell's leading OpenManage systems management portfolio giving SMBs simple and intuitive tools that reduce deployment time by up to 40 percent and provide streamlined management.
The new servers also enable customers to:
Accelerate compute performance across a wide range of applications with a choice of powerful processors from the latest Intel Xeon E3-1200 v5 product family.
Drive faster response times with DDR4 delivering 33 percent faster memory performance compared to DDR3 memory.
Gain insights faster with two times the data throughput made possible with PCIe Gen 3.0 slots boosting I/O performance.
Achieve two times the IOPS (input/output operations per second) performance with Dell's innovative, latest-generation PERC9 RAID controller.
The latest generation of entry-level PowerEdge servers
Offering large amounts of internal storage capacity, extensive configuration flexibility, and an expandable memory footprint, the new entry-level PowerEdge servers feature up to four DDR4 memory slots and up to four or eight hard drives depending on the model.
The new server line-up includes
Dell PowerEdge R330 – a versatile rack server ideal for small businesses, remote offices of large institutions and OEM customers who are seeking enhanced hardware availability and serviceability. The PowerEdge R330 provides up to 56 percent more internal storage capacity than the previous generation server.



Click here to view the full R330 spec sheet



Dell PowerEdge R230 – a powerful and efficient rack server excellent for distributed applications in SMBs, hosting companies and OEM customers. This server has 100 percent more memory capacity, three times the maximum internal storage capacity and two times the I/O expansion compared to the previous generation server.



Click here to view the full R230 spec sheet


Dell PowerEdge T330 – an expandable, rackable tower server for SMBs and departments and remote offices of large corporations that need greater internal storage. The PowerEdge T330 is designed for future growth, with up to four DDR4 memory slots and up to eight 3.5-inch hard drives.



Click here to view the full T330 spec sheet


Dell PowerEdge T130 – a powerful and reliable tower server for driving collaboration and productivity applications in small offices/home offices (SOHO). The PowerEdge T130 provides two times the memory capacity compared to the previous generation server.



Click here to view the full T130 spec sheet


As SMB customers prepare for future growth, the new PowerEdge servers can be combined with Dell's end-to-end portfolio of hardware, software and services to enable operational efficiency and flexibility at any scale.