Buy online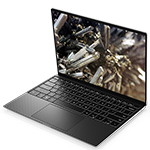 For commercial use
Dell never stops innovating. Bold decisions went into making the Dell XPS 13 the powerhouse it is today. However, at CES 2020, Dell takes its innovation to the next level by removing the last bezel on the company's InfinityEdge display. That means the laptop is virtually borderless, the first of its kind to do so.
Dell XPS 13 (2020) design
It is not one sweeping change, but a host of incremental improvements that catapulted Dell to take the best laptop of CES 2020. First off, the XPS 13 is now virtually bezel-less, thanks to Dell's InfinityEdge design. That means the company squeezed a 13.4-inch display into an 11-inch form factor. In addition, through some feat of engineering, the company managed to shrink the laptop's dimensions, making it 2% smaller than its predecessor do. Overall, the new Dell XPS 13 is an exercise in attention to detail, improving the notebook in a bunch of small ways that add up to a big leap for the system.
Dell XPS 13 (2020) specs
The base model will feature a 10th Gen Intel Core i3 processor with 4GB of RAM, a 256GB SSD and a non-touch, 1920 x 1080 display. However, the system can be configured with up to 2TB of storage, an integrated Intel Iris Plus GPU and a 4K, HDR touchscreen.
Dell XPS 13 (2020) display
The display is now a larger 13.4-inch and is made of Gorilla Glass 6. The keyboard now extends edge-to-edge and the touchpad is 17% larger. The new Gorilla Glass 6 panel has a 16:10 aspect ratio and is 25% brighter than previous models. The full-size island-style keyboard swapped out the proprietary maglev keyboard for rubber dome keycaps. The result is a typing experience that offers less key travel with more resistance.
Smaller, sleeker and sporting the tiniest bezels on all sides, the new Dell XPS 13 shows that Dell knows how to push the envelope without going too far. Soon will be available for ordering.
Contact us to get more information or fill the feedback form and our Experts will communicate with you.
About ASBIS
ASBISc Enterprises PLC (WSE: ASB) is based in Cyprus and specializes in the distribution of Information and Communications Technology products and solutions from global suppliers including Samsung, Apple, Microsoft, Intel, AMD, Seagate, WD, Toshiba, Dell, Acer, Lenovo. The company has its own subsidiaries all over the region of EMEA, more than 1,400 employees and 32,000 active customers in over 75 countries around the globe, and its revenue reached US$ 1,55 billion in 2014. For more information, visit the company's website at www.asbis.com.
About Dell
Dell Inc. listens to customers and delivers innovative technology and services that give them the power to do more. For more information, visit www.dell.com.