BUY ONLINE

ARROWS Tab Q665/L is an 11.6" high-spec water-resistant tablet equipped with the latest Intel Core M processor, which delivers both high performance and a high degree of mobility. The water-resistant, dust-resistant, and anti-chemical functions of the tablet, along with its abundant accessories, enable it to be used in a variety of different scenarios to match customers' work needs.
Key Product Features
ARROWS Tab Q665/L is a tablet equipped with the latest Windows 8.1 Pro operating system and a high-resolution 11.6" full HD display (1920 x 1080 pixels). It uses the Intel Core M processor, a new platform that does not require the use of a cooling fan. As a result, despite the tablet's high performance, it has a long battery life that can last up to 10.1 hours maximum, while its body is smaller than A4 (297 x 210mm) sized paper and only weighs approximately 795 grams. As the tablet lacks a fan and is equipped with a silent flash memory disk, it is exceedingly quiet, making it well suited for quiet conference rooms and classrooms.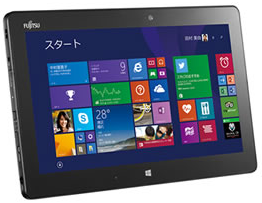 The tablet is water resistant (IPX5/7/8) and dust resistant (IP5X), so it is safe to use outside even if it suddenly rains. Its chemical resistance enables it to withstand being wiped down with alcohol after use to keep it clean, enabling its use in settings where hygiene is a priority.
For security, a fingerprint sensor is a standard feature, with options to add a customized security chip, NFC, and a smart card slot, while the wireless WAN model supports CLEARSURE 3G/LTE, a remote data erasure solution, ensuring safe, secure mobile operation.
In addition, there are a variety of accessories to allow the tablet to adapt to each customer's work style, including a slim keyboard and expandable cradle, a car battery adapter, a cover that comes with a strap and can work as a stand, and a shoulder strap that allows for operation while hanging the tablet from the user's neck. It can also be equipped with a digitizer panel, allowing for delicate text input with a stylus.
For availability and pricing details please contact your dedicated account manager.