GIGABYTE Technology, (TWSE: 2376), an industry leader in high-performance servers and workstations, announced two new HPC servers with built-in accelerators, the GIGABYTE G262-ZO0 for the AMD Instinct™ MI200 accelerator and the G262-IR0 for the NVIDIA HGX™ A100 4-GPU system. Both servers are using cutting-edge, unconventional accelerator form factors to enable fast CPU-to-GPU and GPU-to-GPU communication.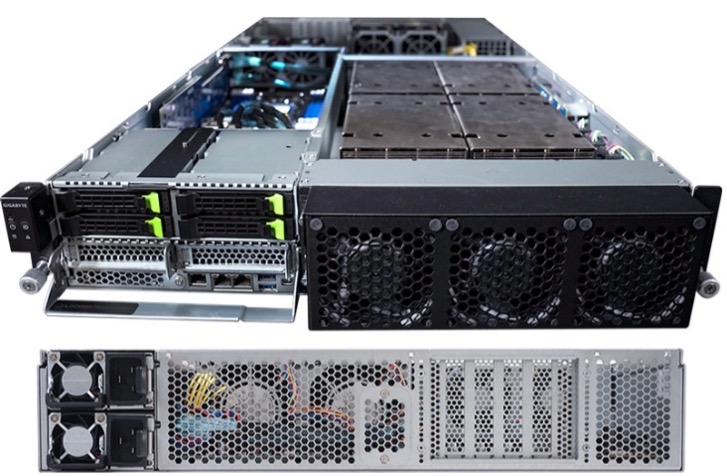 G262 Series: HPC and AI
Designed to find the optimal cooling solution for the NVIDIA Redstone platform and/or AMD Instinct™ MI200 OAM, the G262 series of servers are partitioned off to help isolate and cool the top-tier performing GPUs. A cage wall with three powerful front fans draws draw cool air to and through the GPU modules, and hot air is removed out the back. To cool the CPUs, RAM, PCIe slots, and storage, there is a separate chamber and cooling route. This separation ensures that there is sufficient cooling for max CPU and GPU performance while removing the heat generated from GPUs capable of pushing 2000W TDP. The common design of the G262 makes it easily adaptable to accommodate either GPU form factor. This common design in the G262-ZO0 and G262-IR0 makes the two devices look similar from the outside, but the G262-ZO0 supports AMD EPYC™ 7003 and 7002 processors while the G262-IR0 supports 3rd Gen Intel® Xeon® Scalable processors. CPUs aside, they both have eight DIMM slots per socket for a total of 16 DIMMs per server. At the front of the case is support for four 2.5" drive bays for Gen4 U.2 NVMe/SATA/SAS drives. And below the drive bays are two low-profile PCIe Gen4 x16 slots and an OCP 3.0 slot. At the rear of the case there are four more low-profile slots for NVIDIA InfiniBand adapters, Ethernet NICs, storage, or inference GPUs. The table below compares the new G262 models to the previously released G262-ZR0.
AMD Instinct MI250 Accelerator
AMD recently announced the AMD Instinct MI200 series accelerators that are designed to power exascale systems and primed to take on HPC and AI in data centers. In the G262-ZO0 is the OAM form factor, which is composed of four AMD Instinct MI250 accelerators. Each AMD Instinct MI250 accelerator has 208 compute units and 13,312 stream processors, and up to 128GB High-bandwidth HBM2e memory for up to 3.2TB/s of memory bandwidth. For HPC workloads, the AMD Instinct MI250 can deliver 45.3 TFLOPS peak FP64 performance. And for AI and machine learning, a single AMD Instinct MI250 can achieve 362.1 TFLOPS peak FP16 performance. 3rd Gen AMD Infinity Fabric technology allows for fast CPU to GPU connectivity and the eight AMD Infinity Fabric links allow for 800 GB/s of bandwidth.
NVIDIA Validation Programs for Fast Server Deployment
NVIDIA continues to pull more resources into its ecosystem for rapid deployment and various types of server validation stretching from edge to cloud. GIGABYTE has a range of NVIDIA-Certified servers with NVIDIA GPUs optimized for the data center, including the NVIDIA A100 Tensor Core, A30, and A40 GPUs. GIGABYTE will continue to submit servers for NVIDIA-Certified Systems as well as for GPU system qualification, the latter of which will include testing for the new NVIDIA A2 GPU. GIGABYTE's NVIDIA-Certified enterprise servers are ideal for running the NVIDIA AI Enterprise software suite for rapid deployment, management, and scaling of AI workloads in the modern hybrid cloud.
Remote and Multiple Server Management
As part of GIGABYTE's value proposition, GIGABYTE provides GIGABYTE Management Console (GMC) for BMC server management via a web browser-based platform. Additionally, GIGABYTE Server Management (GSM) software is available for download on product pages. This software can monitor and manage multiple servers without requiring an additional license fee. GMC and GSM offer great value while reducing TCO and customer maintenance costs.