Engineered to cool up to eight CPUs in a 4-node 2U chassis, the liquid cooled servers offer necessary cooling to ensure 280W versions of AMD EPYC™ 7003 series processors can perform at their stable, maximum potential. To this end, the GIGABYTE H262 servers come with a cooling kit provided by CoolIT Systems. The development of H series servers with multiple nodes will meet the needs of HPC, HCI, in-memory computing, and scientific research.
As rack density increases along with higher TDP chips, air cooling may not be the best option and direct liquid cooling will deliver stable and higher performance. Thanks to the ability of water to dissipate heat faster than air, direct liquid cooling options have arisen to meet data center workloads. GIGABYTE has engineered two servers, H262-ZL0 for cooling only the CPUs and H262-ZL2 for cooling CPUs, memory, and an NVIDIA Mellanox ConnectX®-6.
H262-ZL0: CPU cooling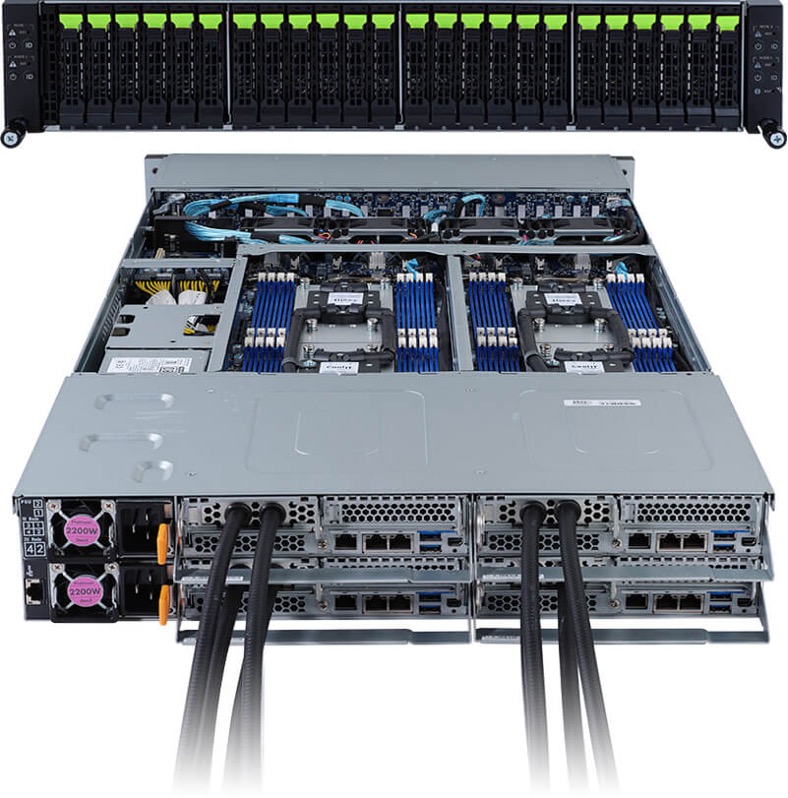 H262-ZL2: CPU, memory & NIC cooling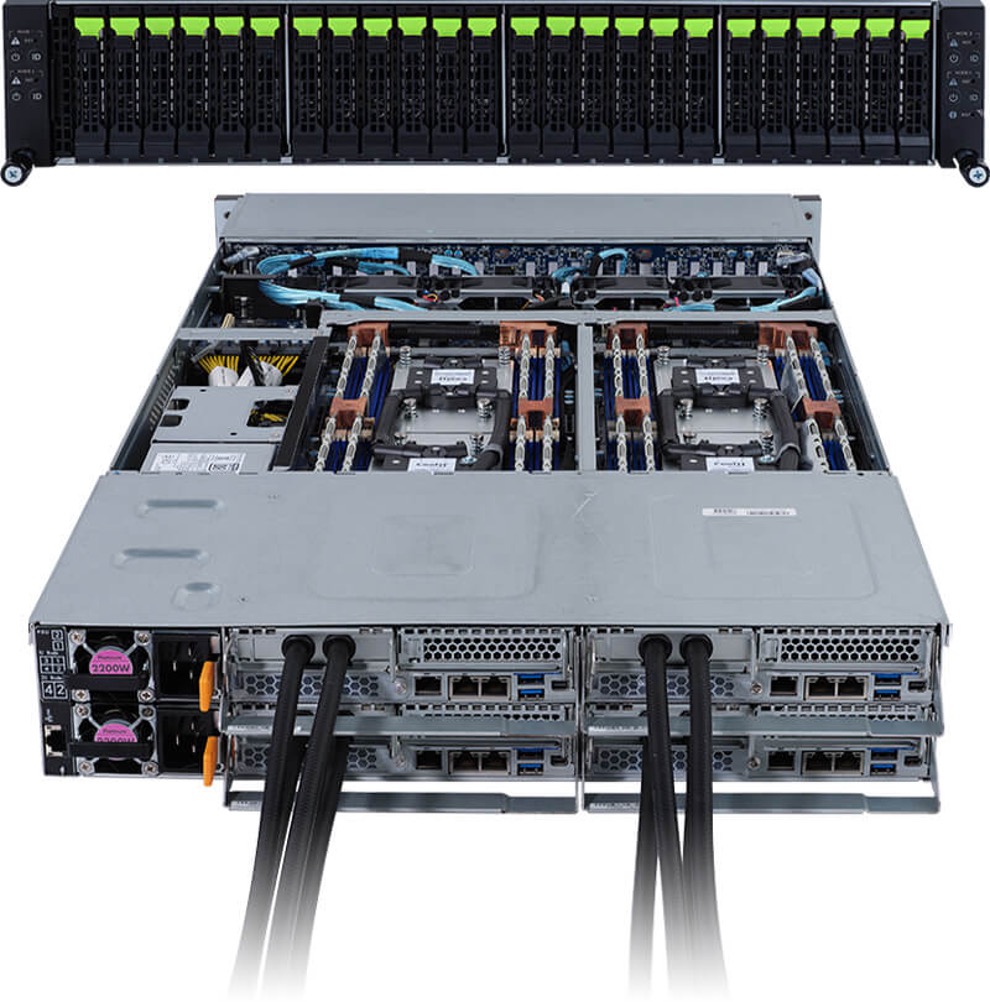 Balancing efficient cooling with the ever-increasing rack density and performance is a major endeavor that GIGABYTE has sought to remedy. As a result, GIGABYTE partners with multiple vendors as one solution may not fulfill all applications, and that philosophy of diversity also applies to the types of cooling systems used in conjunction with servers. For these newly announced H262 servers, GIGABYTE paired up with CoolIT Systems (HQ in Calgary, Canada) to custom design direct liquid cooling components for passive cold plate loops. As well, CoolIT Systems provides Coolant Distributions Units (CDU) and rack/chassis manifolds to make a complete solution. Over the last 20 years, CoolIT has designed and distributed products for the desktop industry and data center. With this in mind, CoolIT has a strong adherence to safety compliance and complies with UL 62368-1, which is a new safety standard for certification of equipment in data centers. Besides compliance, CoolIT Systems' cooling solution has high reliability, high performance, and low pressure drop. Quick and dry release couplings manufactured by Staubli offer the best in precision manufacturing and come with a highly trusted reputation. Therefore, GIGABYTE has a reliable cooling solution for high demanding workloads in data centers.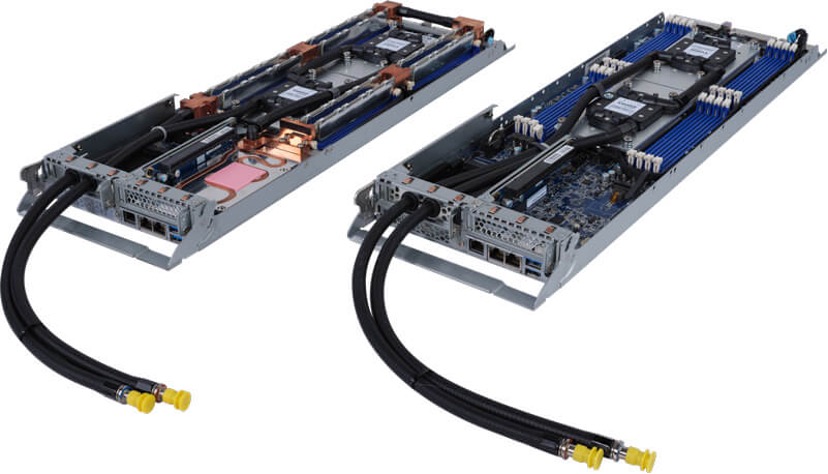 H262-ZL2 & H262-ZL0 Compute Node
H262 series

GIGABYTE is bringing direct liquid cooling to the H262 series, 2U 4-node servers, that supports 3rd Gen AMD EPYC processors up to 200-280W, depending on the number of front side drives. Typically, if the front panel is completely occupied by 24 drives, then support is for CPUs up to 200W TDP. Once the number of bays is reduced to 8, then support for 280W processors is feasible with the increased airflow. To circumvent the reduction in bays while using top-tier processors, two new H262 servers were made that allow for 24 x U.2 (Gen4) drives in the front and 8 x 280W TDP CPUs within the dense 2U chassis of the H262.
Model Name
H262-ZL0
H262-ZL2
Processor
2 x AMD EPYC 7003 per node, 8 total
Support up to 280W per socket
Memory
16 DIMMs per node, 64 total
Support for 3200MHz DDR4
Storage
24 x 2.5" hot-swap hybrid U.2/SATA drive bays
4 x M.2 (Gen4 x4)
-
Expansion Slots
1 x low-profile (Gen4 x16) slot per node, 4 total
1 x OCP 3.0 (Gen4 x16) mezzanine slot, 4 total
Network
2 x 1GbE LAN ports per node, 8 total
1 x MLAN port per node, 4 total
1 x CMC port
Power Supply
Dual 2200W 80+ Platinum
For the complete cooling system there are diverse options based on whether a self-contained CDU solution is best or facility water. For a single rack or just one server, a single CDU (7-10kW cooling capacity) can be installed in the same rack and can keep the system running cool without using facility water. If multiple racks are involved then CDUs may be adequate; however, if facility water is available, it can be used with warm water to help remove the heat from the data center
"Our customers have been asking for liquid cooled solutions, and we are grateful to have partnered with CoolIT Systems to deliver efficient cooling. The new high density H262 servers are GIGABYTE's first wave of servers with direct liquid cooling kits, and have shown impressive performance in our testing," said Alan Chen, AVP of Network & Communication Business Unit at GIGABYTE. "Incorporating CoolIT Systems' liquid cooling technology into GIGABYTE H262 severs will ensure high performance and availability, and warranties by GIGABYTE and CoolIT."
This collaboration with GIGABYTE allows CoolIT to provide leaders in data center design with cutting edge solutions that combine both high performance and low electricity cooling solutions" says Brandon Peterson, VP Product at CoolIT Systems. "Liquid cooling has become the new standard for scalable energy efficient data center deployments, and GIGABYTE has done a great job promoting this vision."