7200 RPM Performance and 250G-Per-Platter Capacity Ideal for Power-Friendly PCs
Hitachi Global Storage Technologies (Hitachi GST) is delivering the world's most energy efficient desktop hard disk drive (HDD) – the Deskstar™ P7K500. Hitachi GST has implemented a set of power-saving technologies to reduce the P7K500's active and idle power consumption by up to 40 percent over the previous generation.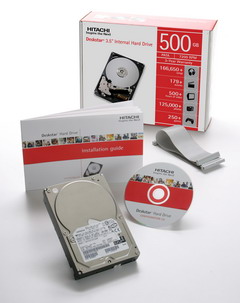 As a result, the P7K500 achieves best-of-breed power consumption on its one-disk model and significant power savings on its two-disk model, both with 7200 RPM performance and Serial-ATA interface. Hitachi GST's new hard drive is designed for commercial and consumer PCs in capacities ranging from 250GB to 500GB*. The P7K500 is up to 59 percent more power efficient than comparable 250GB hard drives in its class, based on available specifications.
The industry-leading power specifications offered on the Deskstar P7K500 support "green" initiatives that are aimed at producing power-friendly PCs and give significant advantage to PC manufacturers wishing to create ENERGY STAR-compliant devices. ENERGY STAR PCs are allotted a budget of as low as 50 watts for idle power, of which the hard drive typically uses 7 watts, or 14 percent of the overall system requirement.
Through a 40-percent power reduction, Hitachi GST has delivered unmatched idle power utilization of 3.6 watts on the 250GB capacity model and 4.8 watts on models with capacities of 320GB or greater. Similarly, the P7K500 has reduced its active power requirements to 6.4 watts and 8.2 watts for its one- and two-disk models, respectively. By utilizing roughly half the 7 watts of idle power typically allocated for hard drives, Hitachi GST enables ENERGY STAR PCs to budget more power margin for additional high-value features or to reduce overall power requirements.
"The development of 'green' computing products that comply with energy-rating programs, such as ENERGY STAR 4.0, is becoming an extremely important initiative for our customers," said Shinjiro Iwata, executive vice president, Hitachi Global Storage Technologies. "With the Deskstar P7K500 hard drive, we have merged our various power management innovations into one drive, achieving leading power specifications that make a positive contribution to system power consumption."
Built using Hitachi GST's sixth-generation power management technology, as well as other new energy innovations, the Deskstar P7K500 represents a significant decrease in power consumption over its predecessor as well as competitive hard drives in its class.
In addition, the P7K500 incorporates Hitachi GST's second-generation perpendicular magnetic recording (PMR) heads and disks, enabling 250GB-per-platter areal density and ensuring a high level of reliability. With the delivery of this next-generation desktop hard drive, Hitachi GST provides a complete desktop HDD product portfolio built on the industry's most reliable PMR technology.
Eco-Friendly Technologies

"Energy expenses related to IT hardware in the data center and in the office are becoming a significant cost for organizations," according to John Rydning, IDC's Research Manager for hard disk drives. "IT hardware component suppliers will need to do their part to help improve the overall power consumption of PCs, servers and storage systems, and Hitachi GST's next-generation HDDs with reduced power consumption is a step in the right direction."
Hitachi GST achieved the Deskstar P7K500's 40-percent power reduction through three substantial design changes. Using the company's HiVERT™ technology, which was first pioneered with the Hitachi Travelstar™ mobile products, the Deskstar P7K500 hard drive increases the use of switching regulators in place of linear regulators for more efficient voltage conversion in the electronics. The drive has also adopted the Travelstar system-on-chip design with a more power-efficient profile, which further reduces power consumption.
Finally, all of the Deskstar hard drives incorporate Hitachi GST's Advanced Power Management capabilities, which have been implemented for six product generations. These capabilities significantly lower the power consumption of hard drives while in idle mode, which is most of the time. The Deskstar P7K500 also takes advantage of Hitachi GST's patented load/unload technology to allow for additional power reductions:
Unload idle – The heads are safely unloaded to the ramp and the servo is shut off; this mode delivers power savings of 11 percent better than idle mode.
Low RPM idle – The heads are safely unloaded to the ramp, the servo is shut off and the spindle motor RPM is reduced; this setting achieves power savings of 44 percent better than idle mode.

Availability
The Deskstar P7K500 will be available in high volume later in 4Q 2007.
Deskstar P7K500 Technical Specifications:
250/320/400/500GB
185 billion bits per square inch maximum areal density
2/1 platters, 4/2 recording heads
1138 Mb/s max. media data rate
7200 RPM, 4.17 ms average latency
PATA-133 and 3Gb/s SATA
8 MB (single disk)/8MB and 16MB (two disk) data buffer
26.1 mm in height (max)
550 in weight (max)
350 G/2 ms non-operating shock
3.6/4.8 watt idle power
2.6/2.8 Bels typical idle acoustics
0 to 60 degrees C ambient temperature (operating)