450GB Ultrastar Drive Delivers 30 Percent More I/Os than its Predecessor
Hitachi announced the Ultrastar™15K450. The new drive uses perpendicular magnetic recording (PMR) technology to deliver 450GB of storage, currently the highest available capacity in 15,000 RPM enterprise-class hard drives. The Ultrastar 15K450 is an ideal solution for mission-critical server and storage applications, such as online transaction processing, intensive database queries and other multi-user applications.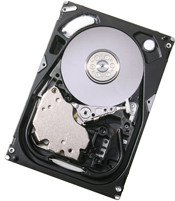 The Ultrastar 15K450 is a performance leader, with Hitachi tests indicating a 30 percent improvement in sequential throughput over its predecessor. The drive features average seek times as low as 3.3 milliseconds and the fast rotational speeds reduce average latency time to 2 milliseconds, enabling customers to access data more quickly and efficiently. The new drive will ship with either 3Gb/s Serial Attached SCSI (SAS) or 4Gb/s Fibre Channel (FC) interfaces.
The Ultrastar 15K450, which is built on a mature design platform to ensure greater reliability and reduced qualification times, offers a host of industrial-strength technology for proven reliability in mission-critical, server-class environments. Technologies such as fluid dynamic bearing motors deliver a low acoustic rating and improved data integrity, and Rotational Vibration Safeguard (RVS) technology anticipates disturbances that can occur in multi-drive configurations and counteracts them. In addition, the Ultrastar 15K450 uses Hitachi's patented head load/unload ramp to minimize integration induced drive damage.
The Ultrastar 15K450 will be shipping this quarter to customers worldwide.