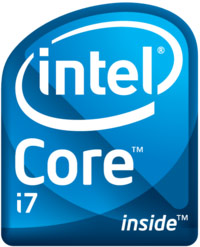 Intel Core i7 is a family of three Intel Desktop x86-64 processors. Core i7 is the first Intel family to be released using the Intel Nehalem micro architecture and is the successor to the Intel Core 2 family. All three models are quad-core processors. The Core i7 identifier applies to the initial family of processors codenamed Bloomfield. The moniker Core i7 does not have a deeper meaning, but continues the use of the successful Core 2 and Core brands.
Intel announced that the family is due to be launched in Q4 2008, but several sources have reported the dates differently. The most recent such report states that the launch date is November 17, 2008. On October 14, Intel confirmed that the release will occur in November, but did not specify a date.
Processors, based on new micro architecture, possess the promoted productivity and lowered energy consumption as compared to old models. The principle of the "best from two spheres" will allow Intel to retain leading position in industry of production of processors for the mobile, personal and servers segments of market.
The technology of Hyper-Threading is presented in processors, also known as simultaneous multi-streaming, able to manage eight programmatic streams on four cores of processor.
Buy Intel Core i7 at ASBIS B2B Marketplace

Mini-ITX chassis offers flexibility for specific application configurations. There can be a variety of case styles and sizes built around the Mini-ITX form factor. These boxes can create display-quality style or the appearance of a tamperproof appliance. They are compact, build for imaging processing, digital signage, industrial automation, and process control.
ASBIS has received two awards from Intel in recognition of highest motherboard revenue growth in 2007 in Russia, CIS and CEE regions.
ASBIS has been honoured by Intel with two awards in recognition of highest motherboard revenue growth demonstrated in 2007 in Russia, CIS and CEE regions.
Supermicro Introduced New Product Line Based on Intel® 5100 Chipset