8- Inch Frame with Scanning Function Converts Prints to Digital Files

LiteOn IT, a world leader of optical storage solutions for PCs, is introducing its first consumer electronics product under Skyla, its new consumer products brand. Memoir is the first digital photo frame in the market to integrate a built-in scanner for converting conventional photo prints to digital files. Memoir is a perfect solution for those who have prints stored in drawers and shoeboxes to enjoy the fun of scanning them directly onto the digital photo frame and sharing them with friends and family. Memoir is the first consumer electronics product introduced under the Skyla brand.
Memoir allows consumers to scan prints up to 4x6-inches to create a digital file directly onto the digital photo frame's 1GB internal memory for instant playback on the photo frame's large 8-inch display screen. In addition, users can transfer the digital files directly to a USB drive, CD or external hard drive for safe keeping and archiving. The Memoir scanning digital photo frame will be available at retail outlets nationwide late December and suggested list price is $219.99.
"The LiteOn brand is internationally recognized and respected in the computer and optical drive markets," says Michael Ostwind, Director, Sales & Marketing, at LiteOn IT. "We separated our consumer and optical Divisions to dedicate efforts toward creating products to meet specific consumer demands and maintain consistent quality and world class services. Memoir represents the first of many consumer electronics products we plan to introduce under the Skyla brand. Memoir, with its built-in scanner, exemplifies LiteOn's commitment to producing innovative products to help consumers share and preserve precious memories of their life," Mr. Ostwind added.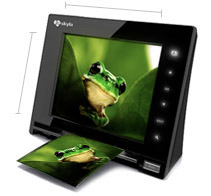 Memoir is a beautifully-designed 8-inch digital photo frame featuring an 800 x 600 screen resolution and offering up to 600dpi scanning resolution for prints up to 4x6-inches. Its 1GB internal memory can store up to 200 4x6-inch prints or 400 3x5-inch prints at 600 dpi. It includes a 5-in-1 card reader compatible with most memory card formats such as CF/SD/MS/MMC/xD, and two USB ports for PC / USB flash drive connections, allowing users to view digital images on those media as well as to back up scanned photos from the internal memory. The digital frame can also play back MP3 music files, Motion JPEG, MPEG1 and MPEG4 video files.
Additional features of the new Memoir digital photo frame include digital matting, programmable On/Off feature for power saving, a built-in Light Sensor that adjusts the brightness of an image for optimum viewing, auto image rotation, clock/calendar & picture slideshows option in four-quadrant view, and more.
Features:
Scan your prints to digital slideshow
Scan up to 4" x 6" (10x15 cm)photos at high resolution
1GB internal memory stores up to 2000 photos
Built-in clock, calendar, & alarm clock
5-in-1 memory card reader
Enjoy slideshows while playing music
Specifications:
LCD Display
LCD Panel Size: 8" Digital
Aspect ratio: 4:3
Resolution: 800 x 600
Memory Card Formats
5-in-1 memory card reader (SD/ MMC/ MS Pro/ xD/ CF)
Internal Memory
1GB (Stores up to 2000 images)
USB Port
USB 2.0 (USB thumbdrive)
mini USB 2.0 (PC connection)
File Formats
Picture: JPEG, BMP
Audio: MP3
Video: Motion JPEG, MPEG1, MP4
Photo Scan
Photo Size: 4" x 6", 3" x 5", 1.5" x 2"
Resolution: up to 300 dpi (1200 x 1800 pixels)
Color Depth: 16.77M
Storage Format: JPEG
"My favor" folder for photo filing
Scan Photo to Internal Memory
Photo Display
Thumbnail view
Slideshow with transition effects
Slideshow with MP3 music
Auto rotate
Power Saving
Auto power ON/ OFF
Timer power OFF setting: 1Hr, 2Hr, 3Hr
Light sensor with 3 levels detection: Normal, Dim, Screen Saving
Screen saving mode
Alarm Clock and Calendar
Clock & calendar in 4-quadrant slideshow
RTC clock with alarm function
Alarm with MP3 music
Additional Features
OSD language: English, French, Spanish, German, Italian, Portuguese, Dutch, Traditional Chinese
Remote controller & holder
Memoir Digital Photo Frame available at ASBIS B2B e-shop
Buy SKYLA Memoir Digital Photo Frame at ASBIS B2B e-Shop

| Buy more Digital Photo Frames at ASBIS B2B e-Shop

About Skyla: Skyla is the new brand entity of Lite-On IT, a global leader of optical storage solutions for PC and consumer electronics industry. Skyla was established to distinguish and reposition the product category to propel a new horizon of product opportunity for today's needs. Leveraging the company's core technology and intellectual resources, Skyla will focus on developing innovative products tailored to entertain and enhance consumer's lifestyle. Skyla is derived from the word "Scilla" meaning "spring beauty and warm hospitality" which is the true essence of the brand and its future line of product offerings for a new generation with new opportunities, and the new start of a digital era.
About Lite-On IT: Lite-On IT (USA), based in Fremont, California, is the U.S arm of Lite-On Technology Corporation headquartered in Taiwan. Established in 1999, it was created to concentrate in optical storage business. Leveraging the company's heritage and expertise in optical storage, Lite-On is expanding its' product portfolio to include exciting Consumer Electronics offerings for Home Entertainment environments. The tradition of developing optical storage products by expanding research investments and manufacturing capacity, Lite-On IT will continue to deliver new generations of products reaching faster recording speeds, increased densities, robust functionality and compelling consumer solutions.